3 terrorists get life sentences in Domodedovo bombing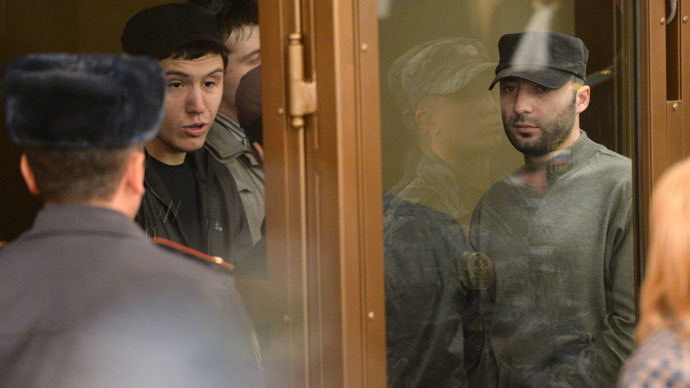 A Moscow region court has sentenced three people to life in prison for their role in the 2011 suicide bombing of Domodedovo Airport, which killed 37 people and left 172 injured. A fourth defendant was jailed for 10 years.
The judge sentenced Islam Yandiev, his brother Ilez Yandiev and Bashir Khamhoev to life in prison. Russia has a moratorium on the death penalty.
The fourth defendant, Akhmed Evloyev, will be sent to a maximum security prison for 10 years.
The four men will also have to pay compensation to the victims of the bombing and their families, the court said.
Prosecutors had asked for one defendant, Ilez Yandiev, to receive a sentence of 23 years, but the court gave him life – despite the fact that he was the only defendant to expressed remorse for the bombing during the trial.
The four were charged with a number of crimes, including terrorism, mass murder and banditry, for the roles they played in the Jan 24, 2011, bombing of Moscow's Domodedovo Airport. They helped the suicide bomber to obtain the bomb and travel to Moscow from Russia's southern Republic of Ingushetia, the court heard.
The bombing, in the airport's arrivals area, was carried out by Magomed Evloyev, the brother of Akhmed Evloyev. The bombing killed 37 people and injured 172 others.
Defense lawyers for the four men had argued that there was insufficient evidence against them and asked for their clients to be freed.
The four defendants and the suicide bomber are believed to be members of a terrorist group that pledges allegiance to Doku Umarov, Russia's most-wanted terrorist.
You can share this story on social media: