Two detained in Ingushetia in connection with Domodedovo bombing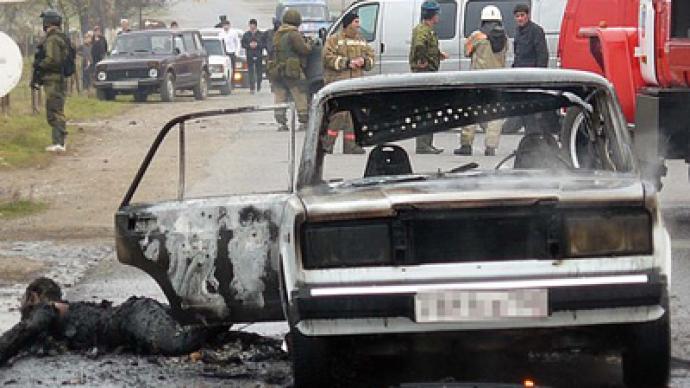 Two suspects, thought to be behind the terror attack on Moscow's Domodedovo airport, have been detained in Russia's southern republic of Ingushetia.
The anti-terror committee says the pair were arrested during a special operation. "The Yandiev brothers were on the wanted list on suspicion of being involved in the terrorist act at Domodedovo airport," a source told Interfax news agency. "They were detained on Monday in the city of Nazran."  The source also added that the brothers had escorted the suicide bomber Magomed Evloev to Moscow and taken him to the airport.Security forces also say they have killed 17 militants and destroyed a militant base in Ingushetia where terrorists were being trained. Three officers died in the operation.37 people were killed when a suicide bomber blew himself up next to the crowded international arrivals hall at Moscow's biggest airport in January.The two men detained are believed to have been acting on the orders of Russia's most wanted man, Docu Umarov, who is also on the wanted list of the UN Security Council's Sanctions Committee, alongside the world's most dangerous terrorists. Umarov claimed to be the organizer of the Domodedovo Airport bombing.He has claimed responsibility for organizing other terrorist attacks, including the Moscow Metro blasts last March, which claimed 39 lives. Tuesday will mark the first anniversary of those terror attacks.
You can share this story on social media: