Chechen terrorist claims responsibility for Domodedovo Airport bombing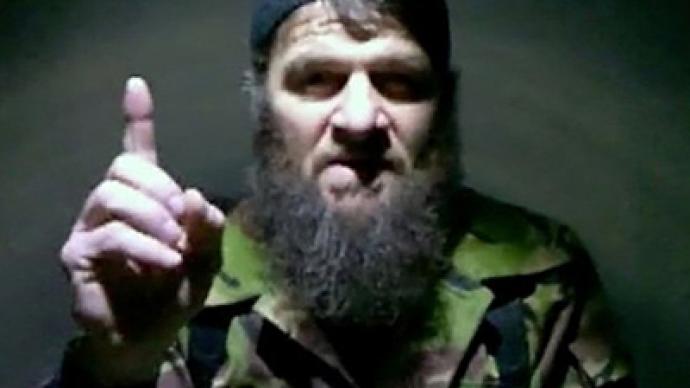 Russia's most wanted terrorist, Doku Umarov, has claimed he was the mastermind behind January's bombing at Domodedovo Airport, which took the lives of 36 people and injured more than 180.
Umarov made the claims in a video message posted on an extremist website. In an earlier video message Umarov warned of more terrorist acts to follow, saying that Russia is in for a year "of blood and tears." Umarov backs the idea of independent Muslim state in the North Caucasus that would include Chechnya, Dagestan, Ingushetia and some neighboring regions.He sees all Western countries as enemies of Muslims and has been proven to have links to Al-Qaeda.Last year he also took responsibility for the March 2010 Moscow Metro bombings that killed 40 people, as well as the November 2009 bombing of a train from Moscow to St. Petersburg.The website which posted the video of Doku Umarov is apparently registered in Finland.Juha Molari, a priest and activist, says that any attempts to investigate the extremist website have been blocked by Finnish authorities.He says his attempts to investigate such extremist websites have led to him receiving death threats from terrorist cells based in the Caucasus. "There is strong anti-Russian propaganda in Finland," Molari stated.
Meanwhile, security has been tightened all across the country.Russian lawmakers and heads of three Russian major security agencies – the police, FSB and Investigative Committee – held a meeting behind closed doors on Tuesday to discuss the terrorist attack at Domodedovo Airport. They also looked into a multilevel alarm system that will allow all security agencies work in closer co-operation. At the meeting, the security agencies reported the name of the terrorist who carried out the suicide bombing at Domodedovo Airport. However, his identity was not disclosed to the mass media, as the investigation is still in process. They believe up to seven people could have been behind the terror attack on January 24. As for Umarov's address and claims, the security officials seem quite cautious about them, saying terrorist cells are mainly autonomous in Russia and Umarov is just one of the possibilities they are considering.According to Russian President Dmitry Medvedev, who held a special meeting on Monday with top-ranking law-enforcement officers, the Domodedovo blast revealed obvious flaws in Russia's security system. The president labeled the lack of police action that made the terror act possible as "absolutely unprofessional and unacceptable."Also on Monday, Dmitry Medvedev signed a bill that will fundamentally change the way Russian law enforcement agencies operate and, according to the president, this will significantly improve security in the country.
It is not very clear whether Doku Umarov was genuinely involved with the Domodedovo terror attack, says Boris Kagarlitsky from Moscow-based Institute of Globalization and Social Movements, and anyway this notorious terrorist is "just one element of a puzzle."The terrorism in the North Caucasus has social roots and the main element of fight against it is curtailing the flow of recruits to terrorist groups by social, educational and industrial policy of the state in the troubled region."Doku Umarov is a sort of PR manager of terrorists," so his threats should not be taken literally, but society must be ready that certain terrorist attacks are possible, warns Kagarlitsky.
Investigative journalist and lecturer at London's Brunel University, Paul Lashmar, says the attack at Domodedovo Airport is the first time Umarov's name has been mentioned in terms of international terrorism.According to Lashmar, previously Umarov "was not known on the international stage for operating terrorist operations like we have seen at the Moscow international airport. This is a step up for him.""This guy seems to be coming into the frame and taking up some of the space that has been left by terrorists killed or captured," he concluded.
The fact that the Russian authorities have treated Umarov's message with a measure of skepticism is because the scale of his authority is not really clear, especially taking into account the rebellion within his own group in August 2010, explains Phil Rees, a writer on terrorism."He [Umarov] claims to be the emir of the Caucasus emirate," Rees said. "He is the man who wants to put on all the trappings of "Bin Ladenism," if you will, some sort of grandeur to his actions."However, "it is not quite clear whether he directly is in charge of the large number of these militant groups, or whether he is simply putting himself in a position of their emir in order to gain more authority himself."
You can share this story on social media: