Thousands of disabled Britons 'condemned to life without basic dignity' as govt support fund to be abolished
Nearly 20,000 disabled people who receive aid from the UK's Independent Living Fund (ILF), which will be abolished in 2015, are deeply concerned about their future. Many fear life could become unbearable without the support.
An average payout of £300 per week enables disabled people to hire assistants to help them with their routine needs, and to stay active and social. Many fear that once the fund is scrapped, they will be either trapped at home or forced into residential care. Local councils administering most social care are expected to take over funding help to the disabled.

On Wednesday, five disabled people lost their High Court appeal over the government's decision to get rid of the ILF. Their lawyers had urged the court to declare unlawful the consultation process that led to the proposed axing of the £320-million fund.

"All five are adamant that the process was flawed and that the impact of closure will be devastating for very large numbers of severely disabled people. They see it as vital that the decision is quashed and the matter reconsidered on a fair and lawful basis," the Guardian quoted solicitors Scott-Moncrieff and Associates as saying.

The lawyers will now ask the court of appeal to overturn a high court ruling. Earlier, they claimed that authorities had failed to provide clear reasons for closing the fund, and that the impact of the decision to abolish it had not been fully assessed.

A number of campaigners have warned that the proposed closure of the fund, and its transfer to local authorities, will have a catastrophic impact on the independence and lives of the disabled. According to Richard Hawkes, chief executive of disability charity Scope, the decision has been a "huge disappointment to the 20,000 disabled people."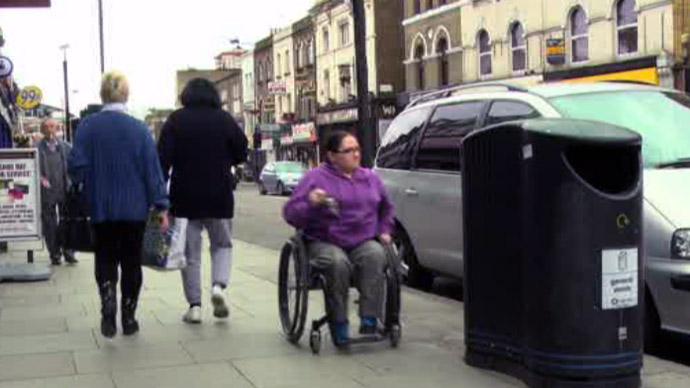 "The Government presumes that the shortfall in this care and support will be met by councils but this just isn't the case," Hawkes said.
"Not only will disabled people will lose out but councils are likely to see more disabled people disputing funding decisions about care as they increasingly struggle to manage their limited resources." Hawkes asserted that the government needs to invest more in social care to prevent disabled people being
"condemned to a life without basic dignity and invisible from society.""If I lost everything, I'd basically be condemned to a life of housebound-ness. My quality of life would be virtually nonexistent, but at the moment, it's just really unclear," 33-year-old Lisa Egan, who has suffered 66 fractures, told RT.
Confined to a wheelchair, she is one of 3.2 million Britons claiming the Disability Living Allowance (DLA), which helps those who are unable to move around freely because of a physical disability. The DLA is being replaced by a new
'Personal Independence Payment,' which will see stricter assessments for determining whether or not disabled people will be given taxpayer money.
"Some days I think, yes I am a worthwhile human being and I deserve the subsistence level benefits that keep me alive, but then other days you're forced into questioning… Well, am I really worth it?" Egan said.
Watch more in Polly Boyko's report for RT.