UK govt imposes avalanche of cuts, reforms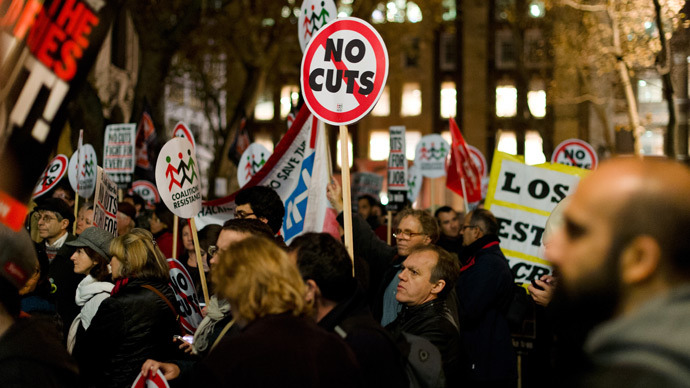 The UK will begin implementing a raft of welfare reforms on Monday, which critics say will hit hard on low-income families and the financially vulnerable. On Sunday, protesters took to the streets, with several churches joining the backlash.
Labour, the opposition party, has labeled the day the beginning of 'Black April.'

Among the changes being introduced are the controversial 'bedroom tax,' a loss of access to legal aid, NHS commissioning changes – derided by many as a step towards privatization – and council tax benefits being transferred to local control.

The simultaneous cuts to central council funding have led over 70 percent of councils to impose a minimum tax payment on lower-income families.  Some 2.4 million households will face a rise in taxes, averaging £138 per year.

"The cuts are unjust and that the most vulnerable will pay a disproportionate price," the Baptist Union of Great Britain, the Methodist Church, the United Reformed Church and the Church of Scotland said in a joint statement on Sunday, amid reports that the move is driving a wedge between church and state.

"These cuts make April fools of us all," said Paul Morrison, Public Issues Policy Adviser for the collective. "We are witnessing what happens when we create a culture that blames poor people for their poverty. It is a lie to say that most people on benefits are lazy, that they have an easy life or that they are responsible for the nation's financial deficit. When people are willing to believe those lies, poor families pay the highest price."

The UK government is imposing the measures in hopes of cutting £2 billion from the budget. The Department for Welfare and Pensions was the biggest-spending department in the UK in 2011 and 2012, forking out nearly £167 billion

Lower-income families will be hit hardest by the changes. However, the wealthier in society will see a tax cut next Saturday, in which the 50-percent rate will be slashed for high earners; Labour has alleged that 13,000 millionaires will get a £100,000 tax cut.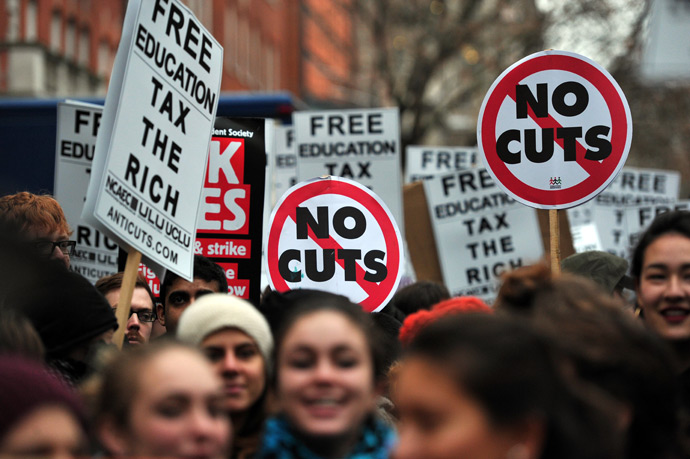 The infamous 'bedroom tax' coming into force will affect those incomes low enough to receive financial support from the UK government. These families must now make an extra payment – in the form of a 14-percent benefit cut – if one of the rooms in their house is 'free.' The affected will therefore lose an average of £14 per week, and the cut will rise to 25 percent if the house has two free rooms.
The UK government has dubbed the bedroom tax an "under-occupancy penalty," and says that they are seeking to encourage more efficient use of social housing. However, critics have lashed out, saying that hundreds of thousands of vulnerable UK residents will be hit by an inescapably 'vicious' tax. To benefits claimants, an extra £14 is a lot of money.
The bedroom tax will "end up costing Britain more than it saves as tenants are forced to go homeless or move into the expensive private rented sector," Shadow Work and Pensions Secretary Liam Byrne said. He went on to point out that while over 90,000 households faced losing benefits, there were less than 4,000 smaller homes available.
The controversial implementation of the measure sparked protests over the weekend as hundreds of demonstrators took to the streets, with similar protests kicking off across several UK cities, including Glasgow and Edinburgh in Scotland.
Starting next Monday, disability living allowances will also begin to be replaced by 'personal independence payments' (PIP), which will be allocated under the watchful eyes of ATOS, a private body responsible for assessing whether benefits claimants are suitable for work.  
The group will be paid up to £1 billion to continue to carry out assessments. ATOS have in the past declared stroke victims, the blind and amputees 'fit for work' in an attempt to reduce the number of benefits claimants. The organization now aims to remove a further 500,000 people from the benefits rolls through stringent medical tests.
This is one of many services which critics believe should be conducted without the motivation of saving money, amid further steps towards privatization of Britain's National Health Service (NHS).
Health service upheaval

The much-debated Health And Social Care Act also comes into effect on Monday, meaning that the institution's traditional Primary Care Trusts have given way to a new style of management.

An NHS commissioning board has been set up instead, and 240 GP-led commissioning groups have now taken control of the day-to-day running of the health service. NHS services will be shifted to private organizations providing treatment, as the bodies will be required to commission health services through competitive markets.

The NHS Confederation believes that handing decision-making to those with clinical expertise will encourage improvements during a time when funding is tight. However, the move has led some specialists to voice concern over the quality of services, as those offering the best deals will have to reduce costs themselves.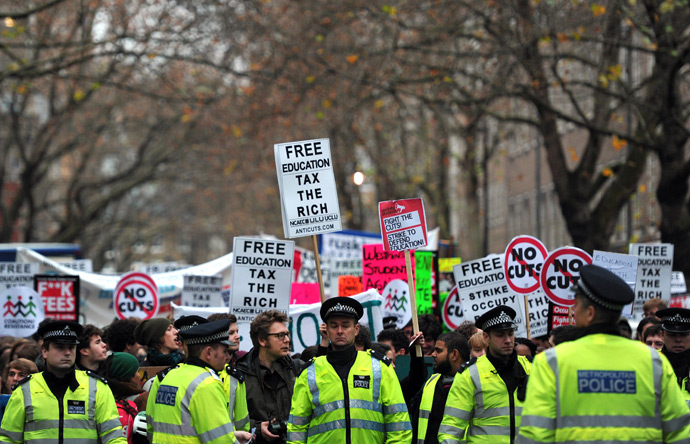 "Last month I was working in a drugs service in the Home Counties," said Max Pemberton, a prominent doctor, journalist and author writing in the Daily Telegraph. He says that it was taken over by a non-NHS organization, which offered a good price because they replaced nurses with "drugs workers" who were "not medically trained."

The commercialization of the NHS has been mourned by UK critics who say the extra funding should have been used to improve the standard of NHS care, especially in the aftermath of the Stafford scandal.  
At the beginning of March, over 1,000 NHS doctors wrote to the Daily Telegraph clamoring for the withdrawal of the new health regulations, saying they would be
You can share this story on social media: