Uncut stage mock eviction of UK welfare baron from £1.9 million home
Up to 300 anti-cuts protesters blocked a road and held a fake eviction outside the north London home of welfare advisor Lord Freud on Saturday to voice their anger at the "bedroom tax".
The organizers of the demonstration said that he spearheaded many of the policies, which have been adopted by the current government including cuts to housing benefits, which will affect people claiming benefit with spare bedrooms and is being dubbed the "bedroom tax."

Lord David Freud is a welfare advisor and parliamentary under-secretary of state for work and pensions in Westminster.

Under the changes, families living in council or housing association accommodation will lose 14 per cent of their housing benefit if they have one spare bedroom and 25 per cent if they have two or more.

UK Uncut said protesters had travelled to Lord Freud's house to deliver a mock eviction notice, "who wants to evict a millionaire?" The slogan is taken from the popular UK TV game show, "who wants to be a millionaire?"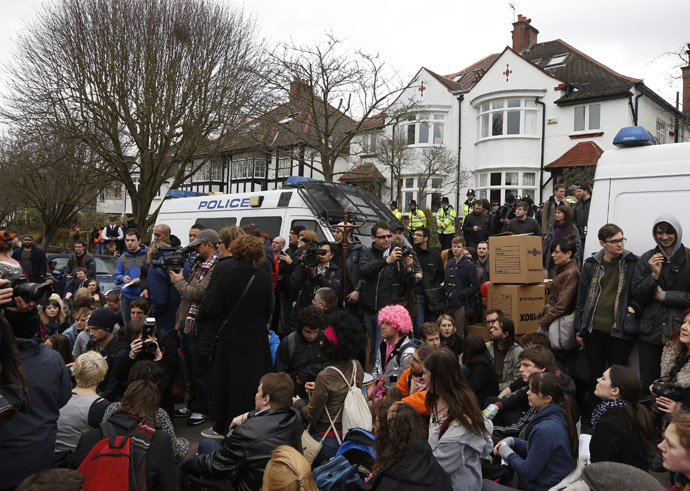 UK Uncut said it would bring the devastating impact of the cuts home to "millionaire misery makers".

Despite a police presence, reports in the British media said the mood of the demonstration was relaxed with street theater and people handing out leaflets. 

Demonstrators also protested outside the home of Ian Duncan Smith, the Work and Pensions Secretary in Swanbourne, Buckinghamshire.

More than 20 protesters with disabilities presented Mr. Duncan Smith with an eviction notice.
A new benefit was introduced earlier this month under Mr. Duncan Smith's instigation called the personal independence payment (PIP) which will replace the disability living allowance (DLA). The change is expected to save around £2.2 billion by 2015-2016.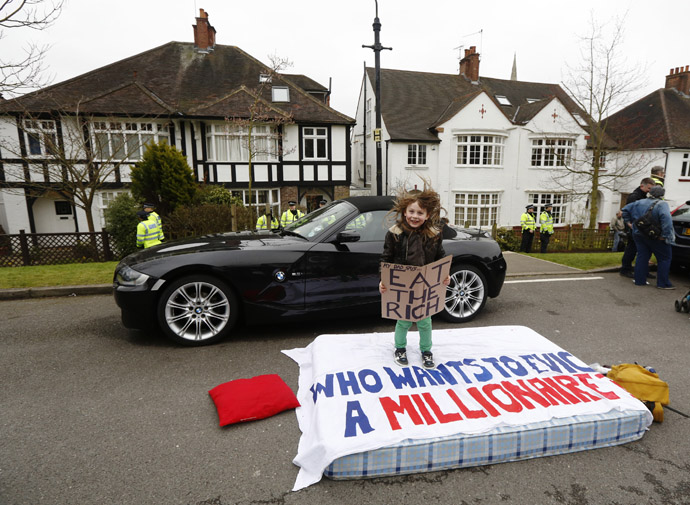 There are currently 3.3 million people claiming DLA compared to 1.1 million when it was introduced in 1992. Mr. Duncan Smith has labeled the current system "ridiculous" as people are given benefits without further checks being made, which makes the system vulnerable to abuse.

The Department for Work and Pensions (DWP) said that the benefit reforms were crucial in helping people to find employment rather than abandoning them to claim benefit year after year. 
"The changes are essential to keep the benefits bill sustainable so we can continue to support people when they need it most across the UK," BBC cited a spokesman from the DWP as saying.