Lithuanian comic artists make pedophile buster new superhero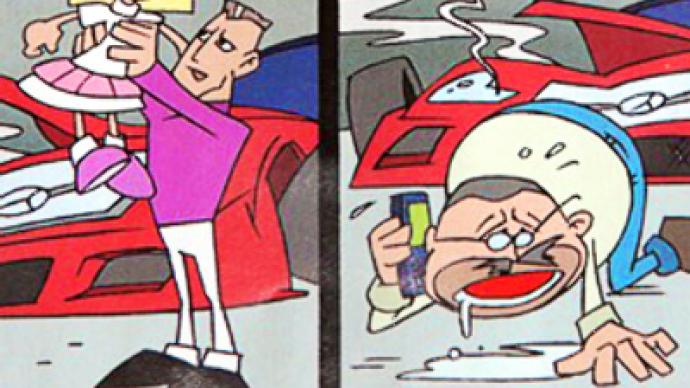 A teenage magazine in Lithuania has published a comic strip about a pedophile buster whose striking resemblance with a real person wanted for double murder has caused controversy.
The one-page comic strip tells a story of a certain Drasus, who is saving a little girl from a stranger who had managed to lure the child into his car with the intention of harassing her. In the story Drasus, frees the girl and tears off the child molester's moustache.
The magazine's editor, Raimondas Yurgaitis told the Delfi.lt news site that the comic had been published in order to teach children to be careful with adults.
"There should be a hero of some sort," he said. "He is brave, that is why his name is Drasus (in Lithuanian "drusa" means "bravery"). The evil is punished."
However, Lithuanian readers immediately saw a striking similarity between the character and Drasus Kedis, a very real person wanted by police for murdering a judge and a woman.
In October 2009, Yonas Furmanavichus and Violetta Narusyavichene were killed in the town of Kaunas. The prime suspect in the murder was local businessman Drasus Kedis, who is currently at large. Before the killing took place, the suspect had accused the victims of molesting his five-year-old daughter.
According to media, Kedis has become a sort of hero in Lithuania for taking justice in his own hands. However, child psychiatrist Linas Slushnis told the Svobodnaya Pressa news site that the comic strip in Flintas magazine is a direct call to violence without attempts to peacefully resolve conflicts.
The same source reported about the recent surfacing of an open letter, written on behalf of Kedis and his accomplices, promising new victims. Police suspect that criminals just want to use the man's name to carry out new murders.
You can share this story on social media: