Bomb kills at least 42 in Pakistan's Peshawar
An explosion near a police station in Pakistan's northwestern city of Peshawar has killed at least 42 people and left over 100 injured in the third deadly bombing to hit the city in just a week, officials say.
Initially the death toll was put at 39, but has mounted to 42 overnight.

The bomb was planted in a car parked near the crowded Qissa Khawani Bazzar, located near a mosque and a police station. Police said it was detonated remotely, immediately after the explosive-laden vehicle stopped on the roadside.
Initial reports suggested that the station was targeted. However, "It looks like the market was the target," said bomb disposal chief Shafqat Malik, as cited by AFP. 
There are eight women and six children aged five to nine among the blast victims.
The injured were taken to the local Leady Reading Hospital, many of them seriously burnt. According the hospital's senior official, 91 people are still there after several of the wounded were sent home after receiving treatment. 
The deadly explosion also damaged the mosque and at least 50 nearby shops. Many vehicles in the vicinity of the explosion were also set on fire.
"There was a sudden blast. I fell down and was scared. People were screaming, flames were burning, everybody was running here and there," said one of the survivors, as cited by Associated Press.
"A ball bearing hit me and caused an injury. I looked towards where the fire was and there was several dead bodies lying in the road," another witness said.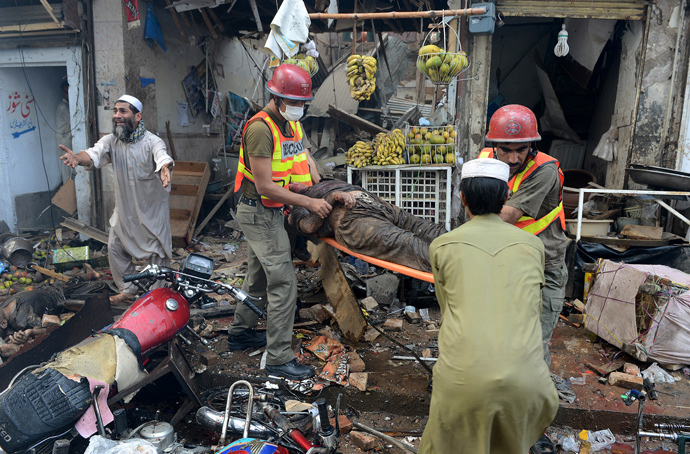 Rescuers dragged out several bodies from a minivan which was passing by the car when it detonated. Officials said thirteen of the passengers were members of the same family: they had come to the city for shopping ahead of a wedding party.
Pakistani Prime Minister Nawaz Sharif, who is in New York for the United Nations General Assembly, said in a statement "Those involved in the killing of innocent people are devoid of humanity and all religions."
So far, no one has claimed responsibility for the terrorist attack.
Peshawar is situated not far from the border with Afghanistan, and is believed to be the gateway to the tribal area largely controlled by the Taliban militias and groups with Al-Qaeda links.
Just a week ago two suicide bombers blew up themselves in Peshawar's historic All Saints Church, killing over 80 people.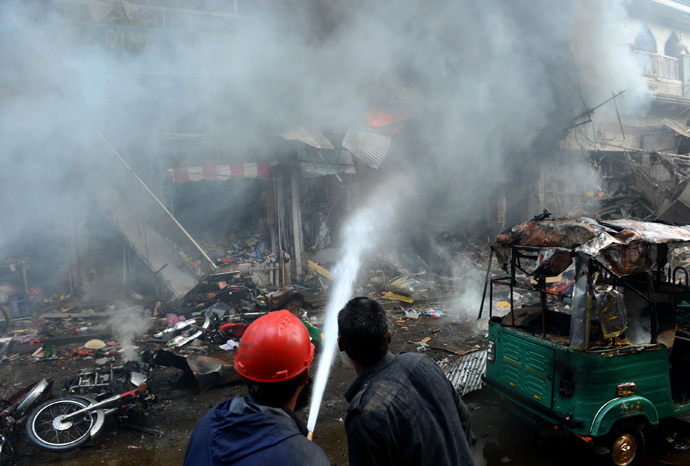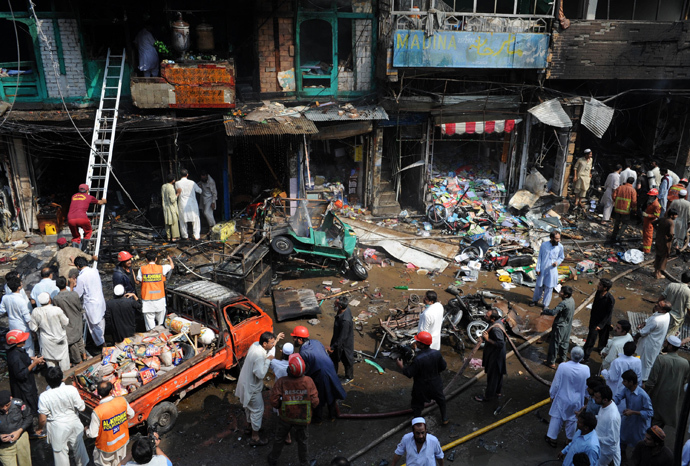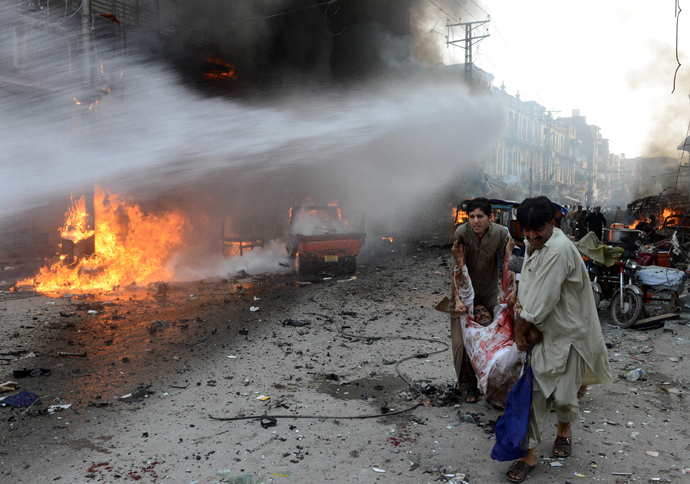 You can share this story on social media: