Canada pulls out from Kyoto protocol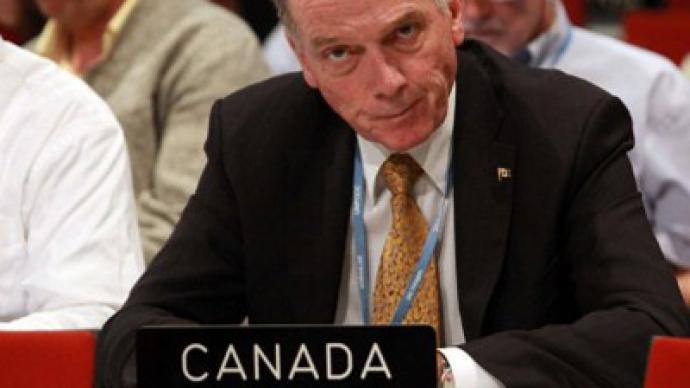 Canada has announced it will formally withdraw from the Kyoto Protocol on Climate Change, becoming the first country to do so. It follows the treaty's five-year extension at a conference in Durban, South Africa.
Canada's Environment Minister Peter Kent told a press conference on Monday that, "Kyoto, for Canada, is in the past." "We are invoking Canada's legal right to formally withdraw," he said. Kent stated that his country had no choice, given its current economic situation – going as far as to criticize the previous, Liberal government for economic damage allegedly caused by adhering to the treaty.According to Prime Minister Stephen Harper's right-of-center Conservative government, the treaty would force Canada to pay penalties equivalent to US$13.6 billion if emissions were not reduced by the required amount by 2012."To meet the targets under Kyoto for 2012 would be the equivalent of removing every car, truck, all-terrain vehicle, tractor, ambulance, police car and vehicle off of every kind of Canadian road," said Kent."While our government has taken action since 2006 to make real reductions in greenhouse gas emissions under Kyoto, Canada is facing radical and irresponsible choices if we are to avoid the punishing multi-billion-dollar payments," he added. The move has been slammed by environmentalists."It's a national disgrace. Prime Minister Harper just spat in the faces of people around the world for whom climate change is increasingly a life and death issue," said Graham Saul of Climate Action Network Canada, as quoted by Reuters.
Canada says it would back a new global deal to cut greenhouse gas emissions, but insists it must cover all industrialized nations. These would have to include China, India and countries not party to Kyoto – such as the United States. The agreement, signed in 1997, requires industrialized countries to cut greenhouse gas emissions.The Conservatives – who have close ties to Canada's energy sector – came to office in 2006, quickly making it clear they that for economic reasons, they would not stick to their Kyoto commitments.Canada, the US's largest supplier of oil and natural gas, is aiming to increase crude oil output from Alberta's oil sands – a plan requiring massive amounts of energy.
Peter Lilley, a British Conservative MP and former cabinet minister, believes the protocol will not have much effect.Canada may be a "forward indicator of what other countries will feel and think in the future" as "these commitments are not really achieving much as far as future climate is concerned but are beginning to cost and hurt a lot," he told RT.