Scram, serfs: Poor Londoners being booted from city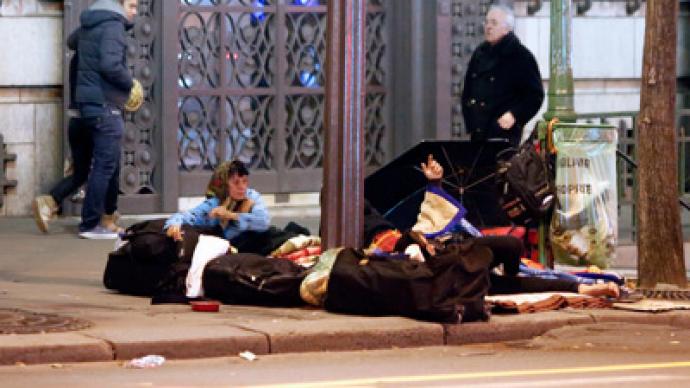 Nearly 3,000 poor adults and children will have to leave their London homes to move up to 200 miles away. Camden council has dropped the bombshell that it will displace 761 of its families. Many criticized the move as de facto 'social cleansing.'
­The central-northwest London district will soon be only for those able to afford the rising rents. The council has said that it will be contacting the families – consisting of 2,816 adults and children – because cuts to the UK's benefit system mean that many living there will no longer be able to afford their homes.
The UK has imposed a number of public-sector cuts on the country, including slicing funding to children's services, health services, and arts and education bodies.
The housing benefit was capped at £500 per household for couples and single parents under the Conservative-Liberal Democrat coalition, and new limits will be imposed from April 2013 onwards. Although financial support will be granted to people incapable of housing themselves, in many cases it will likely not cover the costs. Camden has the fourth-highest rents of any borough in the country, and these 761 families will not be able to afford their current accommodation.
Many of the soon-to-be-displaced families have children in local schools, and have also made efforts to take on extra work so they can stay in their homes.
"It seems like the government just wants London for the rich. They want to move people on benefits to poor areas," one single mother told the Guardian. Her rent is £340 for a two-bedroom flat in Camden, but her housing subsidy will be reduced to £204 when the cap kicks in. The council has offered to rehouse her in Liverpool, according to the paper, which she is reluctant to do because she has children in school.
However, many more than the 761 facing forced migration will be affected by the spike in rents. "Some families would rather stay in Camden and struggle with increased rents than move away from family and community networks," a Camden Council report said last October.
Additionally, annual inflation grew by 2.7 percent in January, unchanged for the fourth month in a row, meaning that the value of wages in Britain has fallen.
In the past, ministers had claimed that nobody would be forced to move as a result of the cuts.
However, last April, news that Newham Council was finding new homes for its families some 160 miles away led British media to question whether it was the beginning of 'social cleansing.' It was suggested at the time that Westminster Council, renowned for its gerrymandering policies in the 1980s, may follow suit.  
One of Westminster Council's private providers, Smart Housing Group (SHG), proposed that it would be best to rehouse "150 people within the next 12 or so months" in places as far away as Derby and Nottingham.
"It is becoming increasingly evident that hapless ministers haven't got the first idea what is going to happen when their changes come in or how much hardship will be caused," Labour Party employment spokesperson Stephen Timms told the Guardian.