'Unacceptable': Third of English kids have no chance to get decent education
A study by Ofsted, England's education watchdog, has found 30% of English schools are under-performing. With over 2 million children affected, a league table system will be set up to "name and shame" underachieving schools.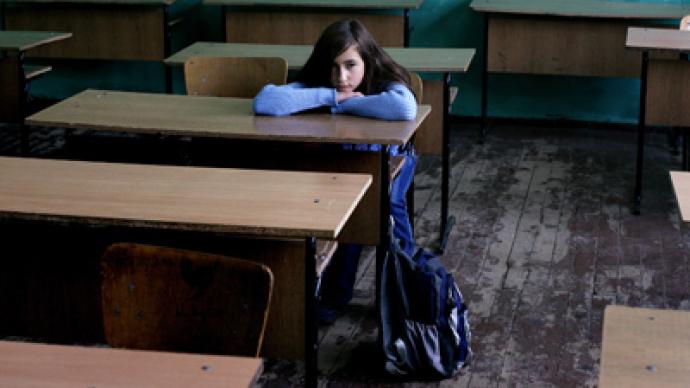 Oftsed found severe inequalities in England's education system, with pupils in some areas of the country having less than a 50% chance of being taught at a school deemed good or better. In practice this means that 2.3 million children are attending below par schools.Sir Michael Wilshaw, the Ofsted chief inspector, said huge differences in school standards across Britain are "completely unacceptable".The annual report was based on an analysis of all schools in England during the 2011/12 academic year.Ofsted also found the "dramatic differences" in schools were exasperated by a postcode lottery and that a parent's chances of sending their children to a good local school depend on where they live.The inspectorate discovered that the worst schools at the bottom of the table were in Coventry, where only 42% of children were attending a good or outstanding primary school and Derby with 43%. Both are industrial cities which have seen contraction and closure of key industries. But there are also differences between local authorities with similar demographics. Wigan and Darlington, traditional working class industrial areas, have good or outstanding schools. In schools deemed to be underperforming, lessons were found to be formulaic, with kids not interested in lessons or being stretched to their full potential by their teachers. The best schools were in London, with Camden boasting 92% of kids going to a good school and Barnet with 91%. Both areas have large numbers of middle class professionals, although Camden also has more poor households than almost any other part of the country.Sir Michael told BBC Radio 4's Today program, "We'll be looking very carefully at what's happening in those local authorities with the same sort of population, with similar levels of deprivation, similar numbers of children on free school meals, where one particular local authority does extremely well and another doesn't." "That's the whole purpose of this [report] – to shine a spotlight on parts of the country which are underperforming," he continued. As a result of the inspector's ratings Ofsted is launching a league table ranking local authorities on the quality of their schools. The league table will increase pressures on local authorities at the bottom of the pile. Teachers' unions believe that this will lead to a further push for schools to leave local authority and government control and become independent academies. Academies are self-governing and although they receive money from the state they manage their own affairs and finances. "Naming and shaming would certainly suit the education department to push all local authorities into the position of converting schools into academies," said Christine Blower, leader of the National Union of Teachers. While David Simmonds, a spokesman for the Local Government Association, warned that, because of an increasing number of directives from central government and the move towards academies, local authorities had diminishing control of schools anyway. The government admitted that the report underlined some serious failings. "Standards in some local authorities are simply not good enough. There are still too many schools that do not provide a good enough education. The report recognizes that sponsored academies – with strong leadership and real expertise – are the best way to turn around struggling schools," a Department of Education spokesman said.But it's not all doom and gloom for England's schools. There have been improvements in the last few years with 70% of schools now ranked as good or outstanding, compared to 64% five years ago. Indeed, the very existence of the table is due to increased inspections.
You can share this story on social media: