Disadvantaged in UK to stay that way...as govt ignores them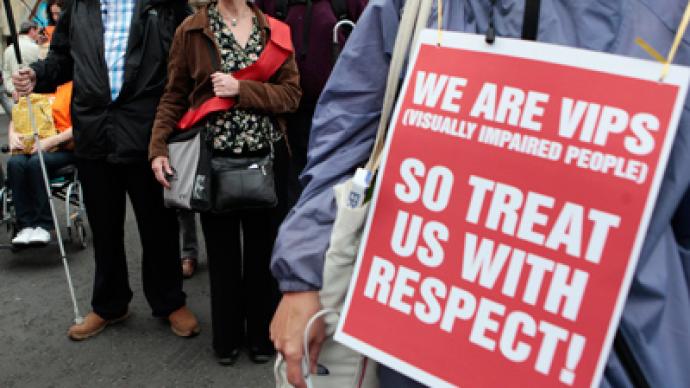 Disabled people, women and ethnic minorities across the UK were all ignored when David Cameron's government decided where to cut costs, according to an official watchdog.
In a further indictment of the government's savage austerity agenda, the Equality and Human Rights Commission (EHRC) released a damning report highlighting how it is disproportionately affecting the most disadvantaged sections of society.The commission went so far as to say the government may have broken the law in its failure to consider the possible impact of its policy.It also accused the Treasury of not taking sufficient time to assess the possible consequences of its decisions. Equality data for controversial legal aid cuts – which included removing support for victims of domestic violence – was given to the Treasury "days before" the review was published.Shadow Home Secretary and Equalities Minister Yvette Cooper said that decisions by the Coalition hit women and those on "low and middle incomes" hardest. "This report shows ministers didn't even properly consider the impact of their plans on inequality in advance," she said.
Three major failures
It said there was "no evidence" of any "gender analysis or equality screening" by ministers ahead of the announcement of the cap on household benefits.Critics argue that lone-parent families could see themselves hugely disadvantaged by the limit. From next year, the income received by a family claiming out-of-work benefits, regardless of its makeup, should not exceed the average household earnings of people in employment, around 500 pounds (US$800) a week. The decision to scrap the education maintenance allowance (EMA) and replace it with a smaller support fund was also slammed. Teenagers from poorer backgrounds were previously entitled to 30 pounds (US$48) a week to stay on at school beyond the age of 16. Without such incentives, human rights watchers argue that children, often from broken families and ethnic minority groups, will find themselves forced out of the educational system. For its part, the commission said the decision was made with no reference to ethnicity, disability or gender impacts.It also said the department was also unable to show that the impact on disabled people was considered when cuts to the Bus Service Operators Grant, which subsidizes some services, were agreed.For political analyst Peter Eyre, the proposed cuts are austerity policy "gone out of control"."These measures are completely unjustified and only cause more suffering for those people on low incomes," Eyre believes. "To implement cutbacks that target women, the aged and disabled has extremely serious consequences."Protest group Occupy says the report's findings were further evidence of the government's approach to cutting the deficit. "It's not even as if austerity works: the UK is back in recession and people all over Europe are rising in their opposition to being made to pay for a cataclysm not of their making," a statement from Occupy claimed.Following the financial crisis of 2008-9, Britain implemented harsh austerity measures in an attempt to reduce its deficit and increase economic growth. But the EHRC, which describes itself as an independent statutory body established to abolish discrimination, says it is low- to middle-income families who are being squeezed the hardest.However, the commission stopped short of recommending formal actions against the government."This is a deeply unfair government. Time and again the vulnerable are hardest hit, and those on low and middle income lose out more than the highest earners," said Cooper.But Tory MP Douglas Carswell defended the government's cuts and dismissed the conclusions of the EHRC as an unelected body.Human rights campaigners welcomed the EHRC report, but said progress had been slow, with the commission having first started its work in November 2010.
You can share this story on social media: