Lethal concentration of toxic gases forces scores to evacuate in Belgium
Published time: 7 May, 2013 18:56
Edited time: 7 May, 2013 18:59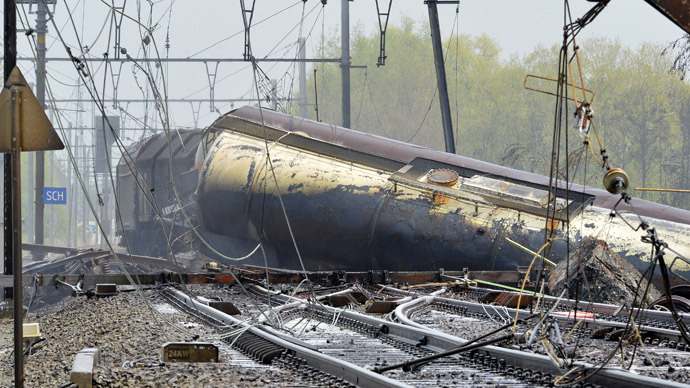 At least a hundred people were re-evacuated after potentially lethal toxic vapors were discovered in Belgian city of Wetteren. This comes after a train carrying chemicals derailed and caught fire in the area on Saturday, prompting mass evacuation.
Residents of two streets in the Belgian town of Wetteren in the north-eastern outskirts of Ghent have been evacuated on Tuesday, as "lethal concentrations" of chemicals were found in the air, said Governor Jan Briers, local newspaper De Standaard reports.
Highly toxic vapors were rising "out of the old, not used sewer" in the populated  area located near  the train accident, according to authorities.
"[The concentration of the toxic gas] is about 600 parts per million, or up to six or eight times higher than a lethal concentration", said local official Christian Van de Voorde,  as cited by Gazet Van Antwerpen.
"Residents that live within a radius of 250 meters around the contaminated area will not be able to return home for several weeks," added Briers.
Governor Briers stressed that no toxic gases were found in other areas.
At least one person died and 93 were injured after six carriages of a train carrying acrylonitrile derailed and three of them caught on fire on Saturday. 600 residents were evacuated from the area from Saturday to Monday. The residents had returned home when the new chemical contamination was found, forcing scores  to re-evacuate from the area were the toxic fumes were. 
The toxic fumes allegedly entered their homes through the sewage system, which transported the contaminated water that was used to extinguish the train fire.
Acrylonitrile is a highly toxic and flammable chemical compound.  The burning material releases fumes that can cause lung cancer, according to the International Agency for Research on Cancer (IARC).