Two killed, more than a dozen injured after train ambush in southern Thailand
Published time: 18 Nov, 2012 06:27
Edited time: 18 Nov, 2012 10:56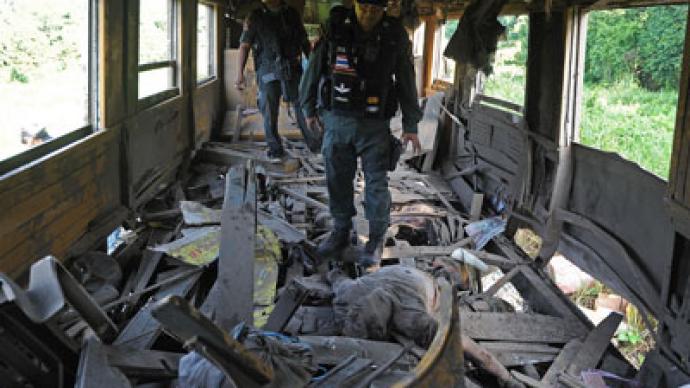 Just hours before US President Obama's visit, a bomb was detonated by suspected insurgents causing a train to derail, killing two railway guards and injuring 15 others in southern Thailand.
The insurgents exchanged fire with railway guards before fleeing the scene, Police Col. Dulyaman Yaena told AP.
The explosion occurred in Tue So district of Thailand's Narathiwat province, causing a disruption to train services.
All the injured were hospitalized.
The attack was a second on the weekend Barack Obama is expected to visit Thailand. In the first incident one person was killed and 20 were wounded after a motorcycle bomb exploded in southern Yala province.
While in the region Obama is also scheduled to visit Myanmar and Cambodia.
More than 5,000 people have been killed, since the escalation of Islamist separatist insurgency in 2004 in Muslim-dominated southern provinces.
The conflict has been ongoing for a decade between local Muslim militants, who want a separate state, and the Buddhist-dominated Thai army and paramilitary forces.
A Thai soldier stands guard in a military armoured vehicle in front of a derailed train following a bomb blast triggered by suspected separatist militants which killed one security volunteer at a train station in the Reu-so district of Thailand's restive southern province of Narathiwat.(AFP Photo / Madaree Tohlala)
­
Thai soldiers stand guard in front of a damaged train following a bomb explosion triggered by suspected separatist milltants which killed one security volunteer at a train station in the Reu-so district of Thailand's restive southern province of Narathiwat.(AFP Photo / Madaree Tohlala)
­
Thai police officers inspect the site of a bomb explosion triggered by suspected separatist milltants which killed one security volunteer at a train station in the Reu-so district of Thailand's restive southern province of Narathiwat.(AFP Photo / Madaree Tohlala)