Bahraini activist arrested after govt calls for tough measures against protesters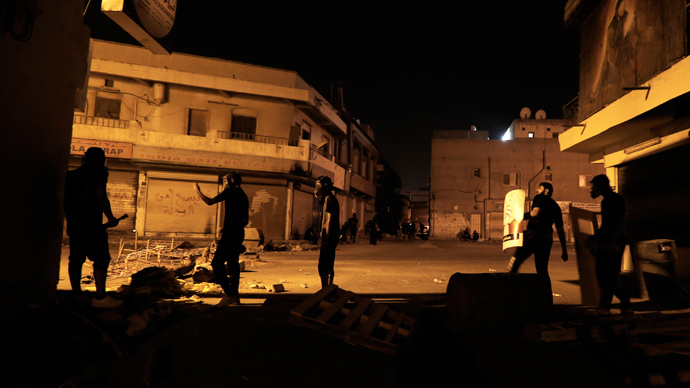 A prominent Bahraini rights activist and blogger was arrested just days after the government warned of implementing tougher measures against anti-government protesters in the Gulf Kingdom.
A 26 year old blogger Mohamed Hassan was arrested early Wednesday, according to Yousef al-Muhafedha, acting president of the Bahrain Human Rights Center.
"Arrest of blogger Mohammad Hassan is yet another criminal act by Bahrain's dynastic dictatorship. Impossible to reform dictatorship," said London-based Bahraini political activist, journalist and member of the Bahrain Freedom Movement, Saeed Shehabi on his Twitter account.
Arrest of blogger Mohammad Hassan is yet another criminal act by Bahrain's dynastic dictatorship. Impossible to reform dictatorship #Bahrain

— Saeed Shehabi (@SaeedShehabi) July 31, 2013
This comes after Bahrain's King Hamad Bin Eisa Al Khalifa ordered the government on Monday to implement tough measures recommended by the parliament, against what the authorities are calling an increase in "terrorism" linked to protests, according to the state BNA news agency.
The measures include banning demonstrations in the capital Manama and stripping citizenship for those convicted of violence.  The Sunni-led parliament also  urged authorities to prosecute political groups that "incite and support acts of violence and terrorism", as well as those that use social networks to "spread false information", as cited by the Gulf news website.
The Shiite-led opposition described these measures as a "declaration of war on the people, as well as open threats and insults to beliefs". However, opposition groups urged for protests "to  remain peaceful."
Meanwhile the security forces have warned of a strong response to rallies scheduled by the opposition groups for August 14.
These measures come against the background of two years of protests led by the kingdom's majority Shiites against the minority Sunni-led government. The demonstrators have repeatedly called for a transfer to a democratic system of government, complaining of discrimination in jobs and government. In turn their loyalty is questioned by the ruling Al Khalifa family.
In April, the government introduced stricter penalties making it illegal to insult King Hamad or national symbols, charges that carry up to five-year jail sentences.
Rallies intensified during the Formula 1 race on April 21 in the Gulf Kingdom. Protestors said the event overshadowed the many alleged human rights abuses in Bahrain. Multiple reports of physical and psychological torture emerged during the grand prix, according to the Human Rights Watch.

Family of blogger Mohammed Hassan said a group of masked security raided their home & confiscated electronic devices pic.twitter.com/SFs8o0d33F

— S.Yousif Almuhafda (@SAIDYOUSIF) July 31, 2013
Hassan worked as an assistant to various foreign journalists visiting Bahrain to cover the anti-regime rallies during the F1 event. In March he appeared on the Dan Rather Report, a weekly news television show hosted by former CBS news anchor, which covered the Bahraini protests. 
According to the Bahrain Human Rights Center, when he was asked if it was safe for him to speak to the press he replied "I don't care anymore. My friends have been in prison, some of them are still in prison, and some of them are in hiding and some of them are dead."
Though the Bahraini government said it has taken steps to address the police brutality, a November 2011 report of an investigative commission stated that the authorities have been using excessive force, including torture, to extract confessions. Human rights activists say many abuses continue.
You can share this story on social media: