Bahrain parliament upholds banning protests in capital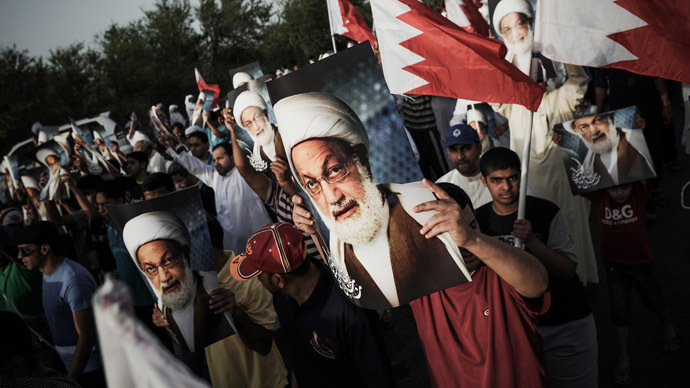 MPs in Bahrain have recommended banning all protests in the capital, Manama, to safeguard people and businesses. Unconfirmed reports on Twitter say the bill has already been signed by the king.
The parliament also proposed the imposition of harsh laws including the death penalty for anyone found in possession of explosives or any other equipment used in terrorist operations. It recommended that all funds be frozen of any organization that has a suspected link to terrorism, the state news agency BNA said.
Reports also suggest that bill which also recommends raising grip on social media has already been signed by King Hamad bin Isa Al Khalifa.
#Bahrain King approves National Assembly recommendations .. now that was FAST ..

— Ahmed Al-haddad (@AhmdHaddad) July 28, 2013
Before the vote, Bahrain's Justice Minister Khalid bin Ali Al Khalifa had been calling for stronger measures against escalating violence in the kingdom. In a special parliamentary session to discuss the mounting violence he warned that the almost 30-month unrest could be prolonged.
Khalifa added that Bahrain must quell "terrorism" before there can be any discussions about reconciliation.
Inspired by events in Egypt, which led to the overthrow of President Mohamed Morsi earlier this month, the Bahrain protest movement has called for anti-government demonstrations to take place on August 14.
The Bahraini government said that anyone participating in protests will face the full "force of the law."
Khalil al-Marzouq, an official in the country's largest opposition group Wefaq, said that Sunday's warning was outside the nation's constitutional framework.
"What parliament issued shows that authorities want to have popular cover in order to issue its decrees," he told Reuters.
Bahrain has been witnessing mass protests since February 2011, when thousands of protesters swarmed the streets of Manama demanding democratic reforms and the resignation of Prime Minister Sheikh Khalifa bin Salman al-Khalifa. Home to the US Navy's Fifth Fleet, Bahrain is ruled by a Sunni monarchy, while over 75 percent of the population is Shiite.
Ever since then, protesters have repeatedly staged rallies in the capital and all across the country, including a series against the Formula One race in April. Many of the demonstrations grew into clashes with security forces.
The Bahraini government has often referred to protesters as "terrorists" or "thugs" and recently used a car bomb explosion outside a Sunni mosque as a pretext to ban the opposition protests in several Shiite villages.
There have been numerous reports of police brutality against activists in the tiny Gulf kingdom. The government has cracked down on bloggers doctors and opposition activists, according to reports from their family friends and Human Rights groups.
A group of Bahraini doctors were sentenced to up to five years in jail for their alleged role in the 2011 protests. Initially, 20 of them were convicted of attempting to bring down the government, but they were eventually acquitted in 2012.
In March this year, the UN special rapporteur on torture expressed his "deep disappointment" over Bahrain's decision to indefinitely postpone his visit to the county accused the Bahraini government of trying to "avoid responsibility" for the postponement.
Officials say about 60 people have died in the unrest, but activists put the figure closer to 100.
You can share this story on social media: