French leftist leader meets 'prisoner' Assange in London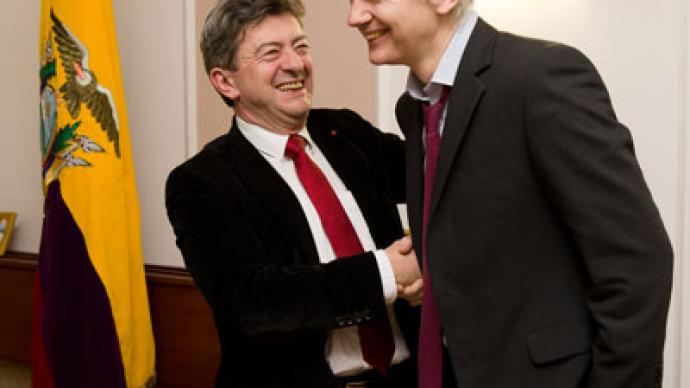 Former French presidential candidate Jean Melenchon has met with Julian Assange at London's Ecuadorian Embassy to show his solidarity with, he says, the "prisoner" of a government that lets dictators walk free but is not brave enough to free Assange.
The politician also called on Sweden to not extradite Assange to the United States, while praising the Ecuadorian government or having a "very brave attitude… unlike many other countries" who offered to help the whistleblower, quotes the French Liberation.Following a meeting between the two, Melanchon told reporters, "We say to the British Government: you freed the former Chilean dictator Augusto Pinochet, you let him go in 2000, you may well let Julian Assange [go]," the Paris Depeches reports.Assange, who was not present following the meeting, was described by the French politician, as an "intellectually combative" individual who feels sympathy for the incarcerated Bradley Manning, the former US serviceman accused of delivering classified data to Assange. "The situation is that Mr. Assange is a prisoner," the Left Front leader added.As far as Melanchon's reasons for visiting the Ecuadorian Embassy in London, he, alongside Ambassador Ana Alban, said, "I am a friend of the Citizens' Revolution in Ecuador, and so I feel a duty to come in contact with my friends, express gratitude and solidarity."It was the first face-to-face meeting between Melanchon and Assange. The two had previously spoken on the phone in August.In turn, the Ecuadorian ambassador told the reporters that Assange is slowly assimilating. "You can imagine how difficult it can be to have fresh air and to have sun and space. In the beginning it was quite difficult, but now it's fine" Alban said in a press briefing. Last week, it was reported that Assange had developed a chronic lung condition "which could get worse at any moment." The whistleblower requires constant medical attention at his refuge in the embassy, Ambassador Alban told reporters in Quito last week.In November, Assange's lawyer warned that the forty-one-year-old Australian's health could deteriorate if he remains confined much longer. Assange has been inside the Ecuadorian Embassy since June 19th, when Ecuador granted him political asylum. If he leaves the building, the whistleblower faces immediate arrest and extradition to Sweden, where he is wanted for questioning on charges of sex crimes. Many see the Swedish extradition as a ruse that would allow his extradition to the United States, where he could face execution for his activities with WikiLeaks. Ecuador has petitioned the British government for permission to allow Assange from the London embassy to Ecuador. They also asked for a guarantee of his safety if he is to be admitted to a UK hospital.London refused to negotiate, stating that it is legally obligated to hand him over to Sweden if he leaves the premisses of the Ecuadorian Embassy.