Assange accuses Australian PM of defamation over WikiLeaks comments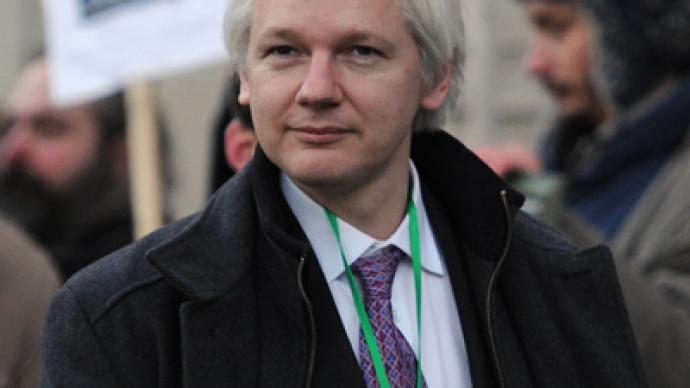 Julian Assange considers pursuing a defamation case against Australia's Prime Minister Julia Gillard. He has hired Sydney lawyers to investigate and legally pursue the PM's comments, which were used to support a financial blockade against WikiLeaks.
As WikiLeaks founder Julian Assange explained in an exclusive interview with activist group GetUp!, Gillard slandered WikiLeaks by stating in a radio show in 2010 that Assange had broken the law by releasing hundreds of thousands of US diplomatic cables."I absolutely condemn the placement of this information on the WikiLeaks website. It's a grossly irresponsible thing to do and an illegal thing to do," commented Gillard.Assange argues that this particular statement was used by MasterCard this year to justify a financial blockade around WikiLeaks by not allowing Australian cardholders to donate money to the non-profit organization. "The effects of this statement are ongoing and they directly affect the financial viability of WikiLeaks," Assange said.
Financial blockade
MasterCard, along with Bank of America, VISA, PayPal and Western Union, blocked any donations made to WikiLeaks after a massive release of secret US diplomatic cables in November 2010. Many critics have argued that the decision was based on US political pressure on the companies in regards to the publication of secret cables. Moreover, ABC's April 2012 release of an email from MasterCard's executive further point that the company's decision to support the blockade was directly influenced by the Australian PM's comments about the 2010 cables publication."Given the serious nature of the allegations and some of the public comments by senior elected officials from around the world (including the Australian Prime Minister and the then-Attorney-General, who indicated that there were questions about the legalities of WikiLeaks' activity) we believed it was prudent to suspend acceptance."Contradicting the PM's statement, Australian Federal Police conducted an investigation in 2010 and concluded that no breaches of the country's law by Assange and WikiLeaks were found.
Assange stuck in legal 'Catch 22' scenario
In 2010, Assange was placed under house arrest in the UK while an extradition hearing was taking place in connection with an international arrest warrant issued over allegations of sexual assault in Sweden.Swedish authorities to this day want to question Assange over allegations of "unlawful coercion and sexual misconduct." He is not charged with any crime, though two women have come forward claiming to have been "sexually molested" by Assange. He claims that both encounters were consensual, and maintains that the case is politically-motivated.In June of this year Assange requested and was later granted political asylum from the Ecuadorian embassy in London, but UK has denied him safe passage to Ecuador, which means he still faces arrest the moment he leaves the diplomatic premises.If arrested, he fears extradition to the US on unrelated allegations in regards to the WikiLeaks' release of secret US diplomatic cables in 2010. After the publications, the US formally designated Assange and WikiLeaks as "enemies of the United States" and the Defense Department is looking into how it can prosecute him.Assange's lawyer argues that under Swedish law his client could be sent to America to face potential espionage charges over the cables in a US military court before even being questioned by Swedish authorities. If extradited to the US he could potentially face life imprisonment and even the death penalty if convicted.
Australia's neglect
Australia has been criticized in the past over failing to offer Assange protection and consular assistance as his home country. Yet the government has continued to assure that consular support has always been available.Further in the GetUp! interview, Assange rejected Australian Foreign Minister Bob Carr's claims that the government was providing the necessary consular support."When there are statements made that there are 63 consular contacts, they are counting emails that they sent my lawyer asking for some future possible appointment," he said."I haven't seen any member of the Australian embassy or consulate since I was in prison in 2010. And even then, all they did was bring some notepads, pens, et cetera," he added. Assange's family was forced to change their names and go into hiding because of his situation."I can't go and visit my family, I can't do things that are important for many people – I can't see the skyline, I can't visit my homeland," he said.