Yobbish behavior getting worse say 80% of Britons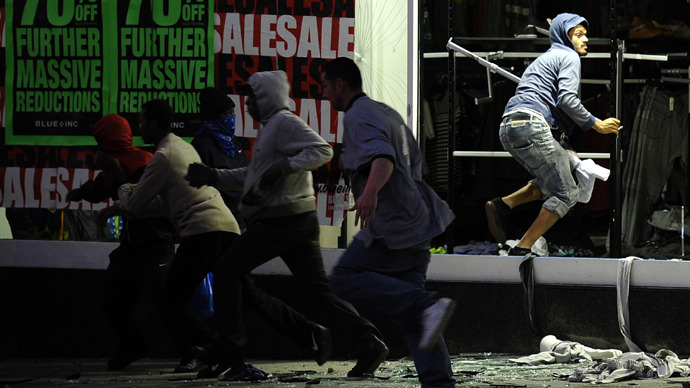 New figures show an alarming rise in the perception of anti-social behavior, as discipline collapses in schools, families shirk responsibility for their children and offenders believe there will be few consequences for their actions.
More than 80% of the British public thinks that anti-social behavior is on the rise across the UK, it was reported in the British media.
In the official survey, published by the Office for National Statistics, four fifths of the 40,000 people surveyed in England and Wales said the problem was getting worse citing vandalism, drunken loutish behavior, verbal abuse, drugs and gangs of yobs hanging about on the streets intimidating people.
The figures come from a new question within the Crime Survey for England and Wales and will prompt concerns that the police need to do more to combat the problem.
49% thought anti-social behavior had gone up "a lot", 32% thought it had risen "a little", while 30% said they had experienced or witnessed an incident in the last 12 months. Only 3% of people surveyed thought it had gone down while 15% thought it had stayed about the same.
One in eight businesses said that they have experienced problematic behavior in the past 12 months.
Government ministers have abolished the Anti-social Behavior Order (ASBO), which was often worn as a badge of honor by criminals and have instead replaced it with new simpler powers resulting in stricter punishments. ASBO's were introduced by Tony Blair in 1998 and abolished by the Home Secretary Theresa May in 2010.
"We are turning the current system on its head, empowering people to come forward and the police to respond quickly and effectively," a Home Office spokesmen told the Daily Mail.
The survey also found that one in three people felt it made no difference calling the police.
Police forces across the UK have faced cuts of up to 6%, which in real terms means over 24,000 police jobs have gone, making it harder to tackle less serious crimes such as anti-social behavior with ever dwindling resources.
"Police take a risk based approach to dealing with crimes of this type, prioritizing those most at harm. As this continues, forces will get better at identifying vulnerable victims and tailoring their response," Chief Constable Simon Cole, from the Association of Chief Police Officers, told the Daily Mail.
But Nick Buckley from the Mancunian Way, a Manchester based charity that deals with anti-social behavior problems  among young people, said that policing will never solve the underlying issues of anti-social behavior.
"The police are very poor at dealing with anti-social behavior, not because they want to be poor but because of their limited time and limited resources," he told RT.
He believes that the problem stems from a combination of the collapse of discipline in UK schools and a culture where people are not prepared to take responsibility for their actions.
"Discipline in schools has gone out of the window and this then causes problems on the streets as young people who do cause problems think they're untouchable," he said.
He also believes that some elements of UK society have become shameless.
"We have no shame left in this country, you can have the police at your door every single day, neighbors will say there's nothing wrong with that these days," he said.
Buckley believes the answer to the problem lies in honestly confronting teenagers and their parents with the problems they are creating and telling them what will happen to them if they don't change.
"The answer goes back to basics, we don't need anything sexy or designed by universities, what we need is people to take some personal responsibility for their lives and their situation and actions and to do that it's about challenging people's behavior," he said.
Buckley stressed that the problem needs to be confronted by anyone living in the UK and not just left to social workers, the police, and academics in universities.
"Everybody in this country needs to take responsibility, not only for their actions but for being part of the solution as well," he said.