Hundreds of African migrants rally in Israel demanding legal status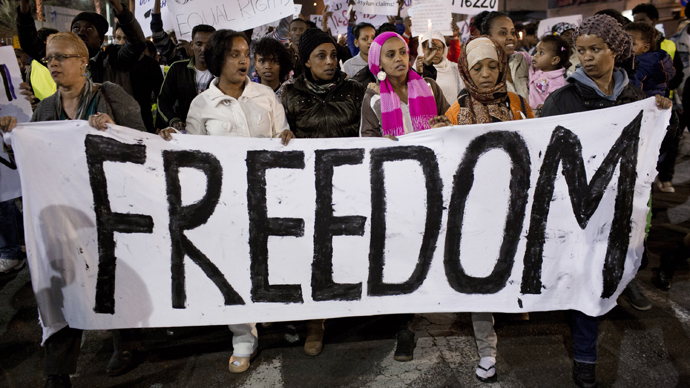 Hundreds of illegal African migrants flooded Tel Aviv streets on Saturday night in a 'March for Freedom' to demand legal refugee status from the Israeli government and to protest tough immigration laws.
The migrants, mainly from Eritrea and Sudan, were carrying candles and chanting slogans like "freedom" or "we are refugees." Some protesters held signs with their detention numbers, others with the word "shame", referring to the latest government's policy towards asylum seekers.
The march was held to demand Israeli authorities recognize asylum seekers from Africa as legal refugees, and to protest the government policy of holding several hundred Africans in detention facilities near Israel's border with Egypt, which opened just last month.
"If we go back we will die or be put in jail. I want freedom. And Israel needs to let us be free," a refugee from Eritrea said, reports Haaretz.
The demonstrators were supported by many human rights groups and other Israeli activists who held up posters saying "their freedom, our democracy!"
This was the second demonstration in the last two weeks, where protesters have come out in protest of the government's detention policy.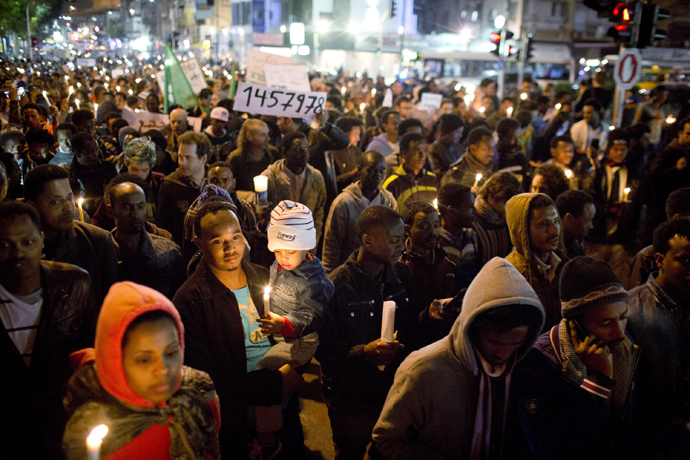 The protest is also a response to Israel's implementation of an anti-infiltration law, passed on December 10, allowing illegal immigrants from Africa to be held without charge for up to a year. The new bill amends earlier legislation from 2012, according to which illegal immigrants could be held for up to three years without a trial. That law was struck down by Israel's top court in September.
The new law is just a drop in a series of measures against over 60,000 illegal African immigrants, who Israel says pose a threat to the 'Jewish character'.
Also a high-tech fence has been recently constructed along the border with Egypt, which will help to stem the flow of African refugees. Last year around 2,000 immigrants tried to cross the border.
Described by Israeli officials as "open", the migrants say facilities are far from this. Though the refugees are allowed to leave the centers during the day, they have no right to seek any kind of employment in the country. In addition, the illegal migrants also have to report to the authorities several times daily and to return voluntarily within 48 hours. Those who disobey face arrest.
Several hundred are being held at a detention center in the southern Israeli desert according to Deutsche Welle, where they are waiting to hear their fate: to be granted asylum or be deported back to their home country forever.
Israeli officials say they offer grants of several hundred dollars to those who agree to return home voluntarily.
"Instead of producing realistic solutions – allowing the refugees to work in the country in agriculture and construction, the Israeli government continues its policy of incitement against them," says attorney Yifat Solel, one of the organizers of the protest, reports Haaretz.
Israel has, in fact, already applied drastic measures towards the illegal African population of the country. In February this year over 1,000 Sudanese were forced to return to Sudan, where visiting or living in Israel is a crime. Last year the Israeli authorities deported more than 100 Sudanese nationals after officials had falsified their documents
Last year, thousands of Africans were violently attacked in a Tel Aviv anti-migrant demonstration. Many protesters blamed the government and Benjamin Netanyahu specifically, for inaction.
You can share this story on social media: