Israeli Kristallnacht: Africans attacked in Tel Aviv anti-migrant demo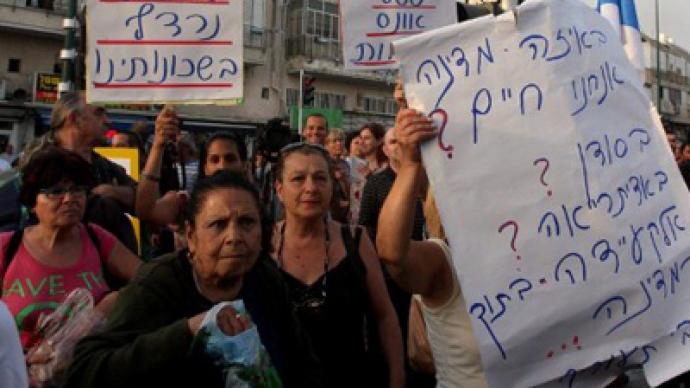 Thousands of Israelis, including high-profile politicians, attended an anti-African demonstration in Tel Aviv. The rally turned violent, with attacks on Africans and grocery shop windows being smashed.
The gathering, which took place in Tel Aviv's Hatikva neighborhood, targeted the influx of African asylum seekers and was organized by Michael Ben Ari, a Knesset member from the National Union party, along with far-right activists Itamar Ben-Guir and Baruch Marzel, Israeli newspaper Haaretz reports. Many protesters also blamed the government, and Benjamin Netanyahu specifically, for inaction.   But the rally was also attended by politicians from the ruling Likud party, including Knesset members Miri Regev and Danny Danon. Former army brigadier general and Israeli Defense Forces spokeswoman Regev described asylum seekers as a "cancer in our body." On Thursday, Regev explained that her use of the word "cancer" was meant "to illustrate the spread of a negative phenomenon. This is a manifestation of rage that has been unleashed after a long time of people feeling unsafe in their own homes.""With all due respect to the Left and Peace Now – they are the reason that our country is in the state it's in. Because of their High Court petitions we cannot deport all those infiltrators to their countries of origin," she reportedly charged. Danon also said the "infiltrators" had to be immediately expelled from Israel."We should not be afraid to say the words 'expulsion now,'" Danon was reported as saying.The crowd carried signs proclaiming messages such as "This is not Africa" and "Stop talking, start expelling."But as the sun set the rally turned violent, with demonstrators attacking at least a dozen African men and women who were unfortunate enough to be near the scene. They also smashed the shop front of a grocery store that served the migrant workers, subsequently looting it. Demonstrators also broke the window of a cab driven by a suspected African migrant worker. A bonfire was also lit up in the street. Seventeen people were reportedly arrested.On Thursday, Peace Now Chairman Yariv Oppenheimer asked the Attorney General to launch an investigation against MKs Regev, Danon and Ben-Ari for incitement to violence.He claimed that "the MKs' racist calls and incitement to violence were quickly translated into action on the ground." MKs denied they condoned violence, with MK Danon reportedly saying: "Violence is not a solution. The real pogrom is the one that happens daily against the residents of south Tel Aviv."The rage of those who attended the rally seems to reflect a growing intolerance of the incoming African asylum seekers and migrant workers, even among those in the highest ranks of power.On Sunday, Prime Minister Benjamin Netanyahu told his ministers that the phenomenon of "illegal work infiltrators" was "very grave," and that it "threatened the social fabric of society," Israel's national security and national identity. He also warned that unless action is taken, the migrants could "inundate" the country and "cancel out its image as a Jewish and democratic state."Netanyahu's words were strongly supported by Interior Minister Eli Yishai, who called for the deportation of asylum seekers.Thousands of migrants from Eritrea and South Sudan came to Israel, saying they wanted to escape the poverty and political instability at home. Most of them are headed for Europe, but are unable to use their traditional path through Libya because of the ongoing post-civil war strife in the country. Once in Israel, they are looked after by local NGOs and the UN High Commission for Refugees. Most of them settle in Tel Aviv.The government has been trying to deport refugees from South Sudan back to their homeland, but the motion was halted by the Jerusalem District Court. The court issued a temporary order prohibiting the deportation until it rules on a petition filed by five human rights organization against the state's decision to deport the immigrants, arguing that their lives may be endangered if they return home. Attorney General Yehuda Weinstein is set to appear before the court next week to argue that there is no legal obstacle to the expulsion, as individual checks will show that none of the immigrants face any threats to their lives back South Sudan.
You can share this story on social media: