Not-so-cold turkey: US ponders leaving 3,000 troops in Afghanistan after 'withdrawal'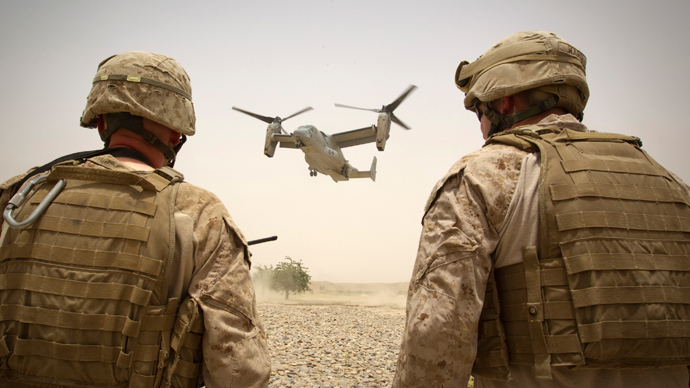 US President Barack Obama considers leaving 3,000 troops in Afghanistan, while three other options are being hotly debated between the White House and the US military, with the latter believing such a small figure to be a mistake.
The key factors relate to the four options being discussed as to the number of troops and where they'll be positioned. The United States has been in discussions over the past months as to the longer-term implications of such a decision, the Washington Post reports.
An update on the government's decision-making will be given by Defense Secretary Chuck Hagel at an upcoming high-level NATO meeting with his peers in Brussels this week, a senior official said. Regarding numbers, it is too soon to tell, but "we'll have to tell people where we stand in our thinking and planning," a top official told the Post.
Under Option One – favored by military commanders, 10,000 troops remain in the capital, Kabul, Kandahar, Bagram and Jalalabad until the end of 2015, while another 5,000, together with some internationals, will be to the north and west. The mission would be called Resolute Support.
Option Two sees the number diminish slightly, and is geographically centered on Kabul and Bagram, but with a lengthier pullout to last until 2016. They would, however, be mobile and the plan includes training local forces across the country wherever necessary. Plans are also being drawn up to make the operation last until the end of Barack Obama's term as president and merge it with the first option.
Option Three relates to the 3,000 troops currently favored by the president, but criticized (as all other variations) by his military commanders on the grounds that it's too small and poses great security risks for continuing US operations in Afghanistan, which also involves humanitarian projects and other government assistance programs, not to mention providing security for CIA operations outside Kabul – particularly in the east, where extremism runs rampant.
This is also crucial for America's drone program in Pakistan, since all of its operations are run from Afghanistan. Obama's military advisers have already said that the administration can kiss the drone program goodbye under any other option than the one involving 10,000 troops. Previously, Obama's authorization rested on the foundation that the drones were for protecting US forces in the country – something that by extension included strikes on Pakistani soil.
The given plan also revolves around Kabul and Bagram, but doesn't set a withdrawal date. Also, troops would not travel the country as they would under the second option, but a part of the Bagram air base would be repurposed for drone operations.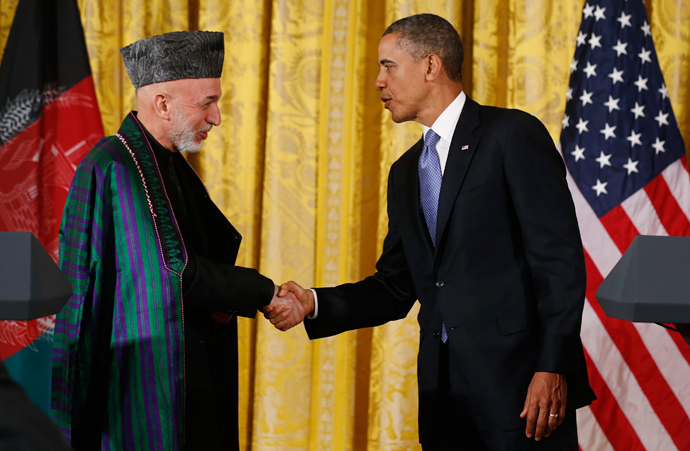 The last option, and least favored by all, would be complete withdrawal. The White House doesn't believe this to be the end of the world, as far as its reputation is concerned. Polls have shown that for the first time since 2001, the same number of people that initially thought Afghanistan was a good idea now believes that it wasn't; that is 66 percent of the American population, a December survey revealed.
The United States is in a hurry to come to an agreement, as the upcoming Brussels meeting has already been pushed back because of Afghanistan President Hamid Karzai's indecisiveness. It is now viewed as a "cutoff" point for him to sign a bilateral agreement on further cooperation. The Obama administration has made clear that failure to do so would result in complete US withdrawal. One official said that the White House has "taken the position that we shouldn't harass [Karzai] anymore, because it doesn't get us anywhere."

Apparently, the Obama administration is already in contact with potential candidates to replace Karzai, with elections coming up in April. All of them have reportedly said yes to the agreement.
But continuing US presence will also be a key decider in another sense, since those NATO members who have agreed to a post-2014 deployment – mostly Germans and Italians - see complete US withdrawal as a disincentive to remain at all.
A study by Congress says that any pullout until 2018 would be unwise, as it would risk a quick Taliban resurgence. But in either case, they predict a big spike in militant activity in 2015-2018, with or without the US there. In fact, it posits that only a minimal reduction in forces would lead to "a negotiatedpolitical settlementto end the war" in 2019-2023.
You can share this story on social media: