Pentagon: Leave 10k troops in Afghanistan or remove them all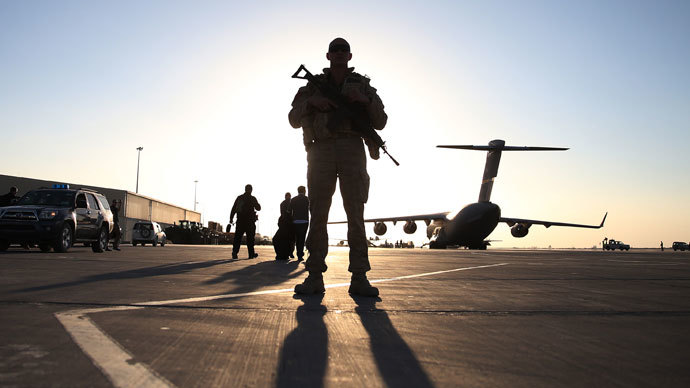 The Pentagon has reportedly offered the White House an ultimatum with regards to the future of the military's involvement in Afghanistan: Either leave 10,000 troops behind past the previously declared 2014 deadline or remove them altogether.
United States President Barack Obama has been adamant since early during his first term in office that he'd end the war in Afghanistan on his watch. With some 37,500 troops still there, however, and only 11 months until it's time to leave, his administration's military leaders now say the president must pursue one of two choices.
The Wall Street Journal was the first outlet to report late Tuesday that officials at the US Department of Defense have offered Mr. Obama a pair of options. The president would have to either agree to keep 10,000 US troops in Afghanistan past that Dec. 31, 2014 deadline as a security precaution, or else ensure that all service members are sent home before the years' end, the paper reported.
"The proposal is 10,000 or basically nothing, a pullout," one official who was briefed on the plan added to a report published that same day by the New York Times.
According to that paper, officials agree that leaving less than 10,000 troops after the 2014 deadline would not allow for the trove of diplomatic, military and intelligence officials expected to stay indefinitely beyond the end of the year to be properly protected.
"The president has not yet made decisions about final troop numbers," National Security Council spokesperson Caitlin Hayden told the Times. Ultimately that decision will involve some input from Afghanistan President Hamid Karzai, though, who so far has been mostly silently on proposed bilateral security agreements between nations.
If an agreement isn't reached, Hayden said, "then we will initiate planning for a post-2014 future in which there would be no U.S. or NATO troop presence in Afghanistan."

"That is not a future we are seeking, and we do not believe that it is in Afghanistan's interests," Hayden added in a statement also sent to the Journal. "The further this slips into 2014, however, the more likely such an outcome is."
Another outcome that is likely to spur commotion would involve the expedited removal of the remaining tens of thousands of US troops in Afghanistan. If Pres. Obama isn't satisfied with the 10,000 troop figure, the Journal reported, and then he'd have to purge his army from the country entirely during the next 11 months.
So far, though, that option seems the less likely of the two. The Journal reported that the 10,000-troop proposal has found support among members of both the US intelligence community and the Department of State, who fear their operations would suffer should the White House decide to send military personnel back home immediately.
"To have an intelligence network, you have to have a footprint, and to have a footprint, you have to have force protection," one senior official told that paper.
"The intelligence community has a vested interest and they've been making a strong case privately for a military presence so they can continue to do their job," added another on condition of anonymity. "They see Afghanistan as a place they need to have eyes on."
Another 5,000 US troops are expected to be sent home next month regardless of what option the president opts for, but a surge of more could soon follow if he isn't satisfied with the 10,000 tally offered by the Pentagon. Those troops would all be expected to leave Afghanistan by the end of 2015 when Mr. Obama's second presidential administration comes to a close.
You can share this story on social media: