Afghan outrage over US Koran burning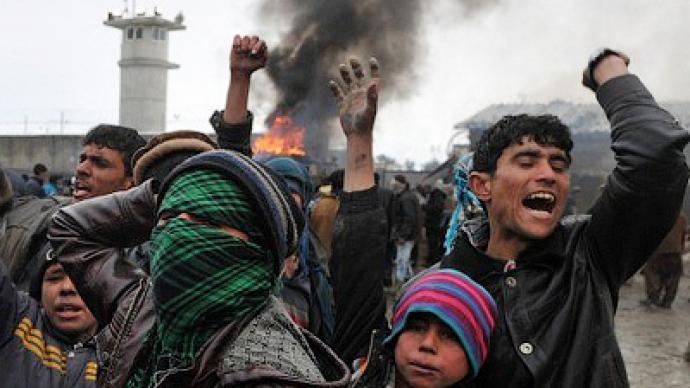 Violent protests have broken out by the US military base in Bagram after US troops improperly disposed of Korans confiscated from inmates. NATO commander issued an official apology in an attempt to quell public outcry.
An estimated 2,000 demonstrators gathered outside the US-controlled airbase throwing stones and petrol bombs, outraged at reports of troops burning copies of the sacred text. NATO guards fired rubber bullets from the base's watchtowers to disperse the crowd.Local Afghan leader Ahmad Zaki Zahed said he had been given 30 Korans confiscated from prisoners at Bagram on Monday and that some showed signs of being burnt.Commander John Allen did not confirm the reports of the burning, but made a fervent apology for the "large number of religious materials which included Korans" improperly disposed of by personnel at the base. He said that upon receiving the reports there was immediate intervention to stop them."We are thoroughly investigating the incident and we are taking steps to ensure this does not ever happen again. I assure you. I promise you…this was not intentional in any way," said the General.He also thanked the "local Afghan people who helped identify the error and who helped to take immediate corrective action."Another protest was reported to have broken out shortly afterwards in Kabul on the Jalalabad road, close to NATO army bases. However, local police told new agency AFP that the police had the situation under control and there was no violence.Last year American Pastor Terry Jones publicly burned Korans in Florida, causing widespread violent protests in Afghanistan leading to the deaths of 30 people, including some UN workers.The desecration of sacred religious materials in Afghanistan is considered to be a crime punishable by death.
You can share this story on social media: