Terry Jones ignites tension in Muslim-capitol USA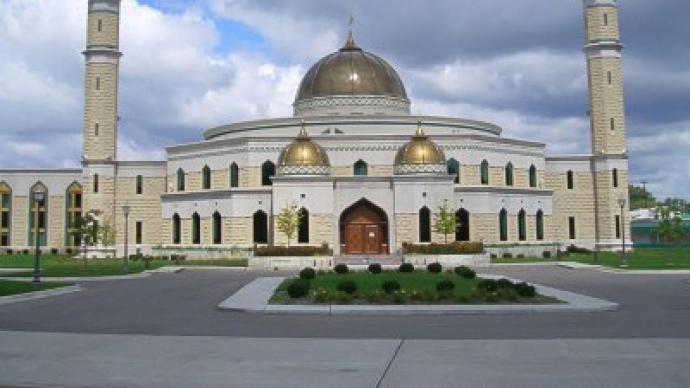 In the shadow of the Ford Motors headquarters it often appears to look like the in Middle East, even though it is located the Midwest of the United States.
In Dearborn, Michigan there exists a tale of two worlds, or at least two hemispheres. The Detroit suburb boasts the largest US Muslim population, not to mention the largest mosque in North America.The Islamic Center of America was recently packed by nearly a thousand people from every religion who gathered, joining together for a common cause, to stand against Florida Pastor Terry Jones, who recently staged a trial and Koran-burning in Gainesville, FL and called for an armed rally outside the mosque in Dearborn."I believe the Koran if strictly followed can and does lead to terrorist activities," Jones said."Many people around America believe that but that's not why we're here."Jones said he is in Dearborn, instead, to protest against radical Islam and Sharia law.However, his planned protest for Friday April 22, Good Friday, never took place.Instead Jones and his Koran-burning partner, Wayne Sapp, spent the day in a Dearborn courtroom fighting for a permit to protest outside the Islamic Center.City officials, citing public safety issues, never granted him the permit.Nevertheless, nearly a hundred people from the area waited for him in the rain to show up to express their opposition. "I just hope he sees unity and decides to get back in his car, in his pick-up, on his horse or whatever and just get the hell out of here," said Mo Charara, a Dearborn resident."This is where you got to question the Constitution," said Bill Ahmad, also a resident of Dearborn. "This is where it becomes really, really vague. I understand he has the freedom of speech but we have the freedom of religion."Haitham Kayed carried a sign that said "I will debate you" and he said, "[Jones is] a product obviously of living under a system that provides him with no information about Islam, made him ignorant and therefore he's taking a stance that he's really not clear on."However, in the midst of the crowds, there was a lone supporter, a man named Jesus Melendez."He needs to alert everybody about radicalism," Melendez said. "He's not saying nothing about Muslims…it's the radical Muslims.He's made it clear. I don't know what they're not getting," he said pointing to the people behind him."It's the number one terrorist group that's going on," Melendez continued. "It's fighting our democracies we are trying to establish in other countries."He was interrupted by another man who said, "The Koran only talks about peace. That's all we know."At 7:30 PM Friday, two and a half hours after Jones' protest was scheduled to start, most people including the dozens of police officers, left the area.Mo Charara said his feelings were mixed. "It was disappointing because everyone was out there rallying and everyone stood together but on the other hand, kind of glad he didn't come because who know what could have happened," he said.Pastor Jones said he will return to Dearborn for a protest outside City Hall, and also plans to sue the city for stripping him of his First Amendment rights.
You can share this story on social media: