ISAF convoy attacked outside foreign compound in Kabul allegedly by Taliban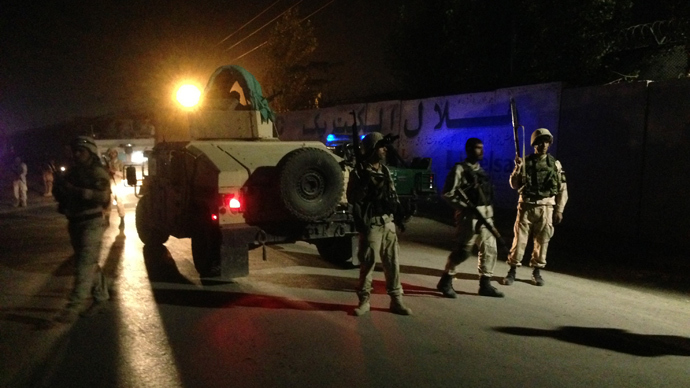 Insurgents have attacked a convoy of ISAF vehicles near the private Green Village foreign compound on the outskirts of Kabul, Afghanistan. The Taliban has reportedly claimed responsibility for the attack.
Around 5 pm local time, a suicide bomber in a car attacked a convoy of vehicles belonging to foreign forces. The blast was followed by gunfire, according to security sources. There were no reports on whether the people in the vehicles were injured. 
The NATO-led International Security Assistance Force said that "there was one enemy killed as a result of the attack.''
 
"We have no operational reports of ISAF personnel fatalities,'' it said in a statement.

A police official, who spoke on condition of anonymity, said two civilians passing by were also killed by the blast.
Police have blocked the road outside the Green Village compound, a Ministry of Interior spokesperson Sediq Sediqi said, according to local Tolo News.

#Taliban spokesman Zabiullah Mujahid claims responsibility for suicide bombing on #Jalalabad rd in #Kabul. Four civilians reported injured.

— TOLOnews (@TOLOnews) October 18, 2013
Sediqi said the insurgents were driving a sedan laden with explosives.

There have been reports that insurgents were targeting the international compound, but this has not been officially confirmed.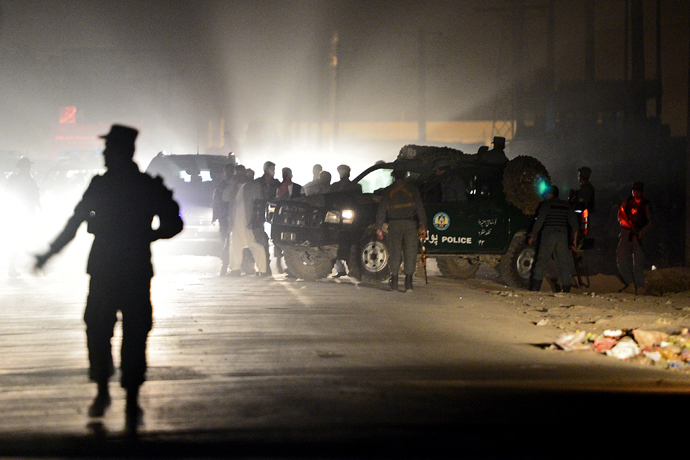 There are also conflicting reports on whether the walls were breached in the attack and whether any casualties were reported.
"First there was an explosion in front of Green Village which destroyed two or three vehicles belonging to foreign forces, and after that a number of insurgents entered inside the compound, fighting Afghan forces," a police official said as quoted by Reuters.
At the same time, another security source said that the fighting occurred on the street outside the compound.
The compound, which houses United Nations employees, European diplomatic personnel and contractors from different countries, is located on the main highway which connects Kabul to the eastern city of Jalalabad.
It is heavily fortified by layers of blast walls and has dozens of armed guards.
The camp was last attacked by a suicide car bomber and armed attackers on May 2, 2012, and a number of Afghan guards were killed. None of its residents were injured.

Germany, one of the biggest contributors to the international security force in Afghanistan, has announced it has temporarily closed its embassy in the Afghan capital as a "precautionary measure".

It is not clear when the embassy will reopen for business. Foreign Ministry spokesman, Martin Schaefer, confirmed the embassy in Kabul is closed but did not give any details "for security reasons."

Germany currently has some 3,860 soldiers, mainly stationed in the north of Afghanistan. 
Most important to the people: In what state will the US leave Afghanistan?
As Afghanistan moves closer to a crucial year in 2014 - NATO combat troops are scheduled to withdraw and it will choose a new president to replace Hamid Karzai - conditions are ripe for heightened levels of violence across the country, presidential candidate Daoud Sultanzoy told RT in an interview.

"I'm afraid the increase has been very evident in the past few months and as the NATO troop pullout gets closer…and of course [with] the election season coming up…the frequency will be more and more and I think we will see an increase, definitely," Sultanzoy said.

The candidate said the most important question Afghans are asking at this juncture rests with whether another invading world superpower - in this case, the United States - will leave the country with rulers that have no credibility with the people.

"Every time foreign countries come to this country, whether legally or illegally, they leave behind a regime that is void of public support," he said. "If we can hold a good election to replace this regime with a more transparent regime that has public support, then they will be able to guarantee stability. Otherwise, the instability will increase and, unfortunately, the flames of this instability will go beyond Afghanistan to Central Asia and even Russia, then Europeans and Americans will feel it later."

You can share this story on social media: