Radical Muslim cleric Abu Qatada to return to Jordan if new treaty is ratified – lawyer
Published time: 10 May, 2013 14:59
Edited time: 10 May, 2013 15:06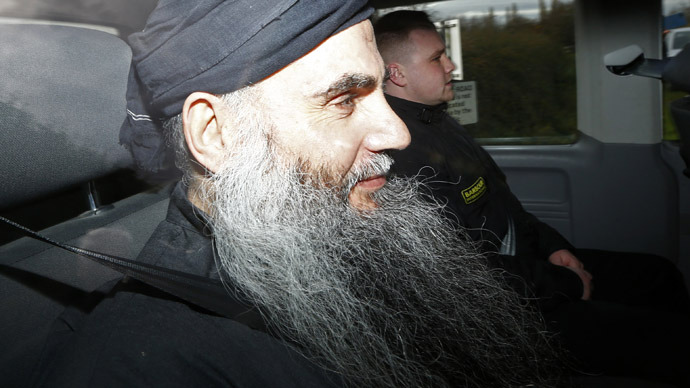 Radical Islamist cleric Abu Qatada will return to Jordan if its parliament ratifies a deportation treaty with Britain, his lawyers said on Friday. The deal is to ensure that Qatada receives a fair trial without the use of torture-induced evidence.
"If, and when, the Jordanian parliament ratifies the treaty, [Qatada] will voluntarily return to Jordan," Qatada's lawyer Edward Fitzgerald QC said during a Friday bail hearing in London.

The pledge is seen as a victory for the British government, which has fought for Qatada's deportation for nearly eight years. The cleric is accused of spreading radical ideas that once inspired one of the 9/11 hijackers.

"The Home Secretary's focus remains on seeing Abu Qatada returned to Jordan at the earliest opportunity," Security Minister James Brokenshire said in a statement. "We continue to pursue this case before the courts and to work with the Jordanian government to achieve this."

The British parliament is expected to approve the new treaty by the end of June. Judge Stephen Irwin asked for evidence to be presented at the next hearing about how long it would take for the new treaty to come into force in Jordan.


Jordan's minister of information said the process could take weeks or months, but is likely to go ahead, local media reported.
Jordan convicted Qatada in absentia in 1999 on evidence obtained by torture, and sentenced him to life imprisonment. The court found him guilty of encouraging militants who planned bomb attacks in 1999 and 2000. Under a 2005 agreement between Jordan and Britain, he will be retried if he returns.
However, the European Court of Human Rights previously blocked his deportation from Britain due to fears that evidence obtained through torture would be used against him in the new trial. It backtracked in May 2012, and said Britain could expel him.
In November, the Special Immigration Appeals Commission ruled that he could not be sent back because of the torture concerns, and released him on bail. The Court of Appeal in London then upheld that decision last month.
The cleric has been in and out of jail in Britain since his initial arrest in 2001. In recent years, he lived at a house in London under strict bail conditions.
He was sent back to jail last March after police found telecommunications equipment in house – a violation of his bail terms. Judge Irwin said on Friday that Qatada's bail terms were aimed at
"stopping this man from communicating his ideas" and that the breaches had been
"significant." The cleric is seen as a security risk in Britain, though he has never been charged with any offense. He is currently being held in London's Belmarsh maximum-security prison.