Presidential frontrunner reveals Judaism conversion plans
Javier Milei is tipped by pollsters to triumph in Sunday's run-off election in Argentina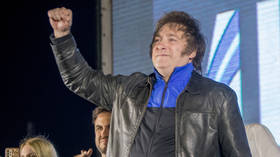 Argentina's libertarian presidential candidate Javier Milei, a prominent supporter of Israel, has outlined his intention to convert to Judaism, though he also acknowledged that any move to do so would likely have to wait until his political career is over.
Milei, a 53-year-old self-described "anarcho-capitalist" who leads the Liberty Advances party, is squaring off against the South American country's economy minister Sergio Massa of the ruling Homeland coalition in Sunday's run-off elections. The contest, which follows an election in October that failed to establish a clear winner, has been dominated by Argentina's dire fiscal outlook. The country's inflation is running well into triple digits while its poverty rate stands at 40%.
However, while Argentina's economic crisis will likely be the most pressing issue for voters, Milei has also made clear that he would view the United States, and in particular Israel, as key allies in constructing his foreign policies.
"What I admire the most about Israel is its culture, its people," Milei said to the Times of Israel in an interview published early on Sunday. He added about Israel's ongoing war with the Palestinian group Hamas that he has "emphatically expressed" solidarity for the country's "legitimate right to defense."
Furthermore, Milei, who attended a Catholic school in his youth, spoke of his enduring interest in the Jewish faith, but said that any decision to convert to Judaism would have to wait until his political ambitions have been completed.
"It's very difficult because I wouldn't be able to fulfill all the precepts due to the demands I'd have as president," Milei said. "You know, if you're a convert, you have to comply with all of the Jewish religious precepts."
He added: "The thing is, I'd possibly plan to convert after my political career is finished."
Milei's sometimes brash and eccentric personality has drawn international comparisons with former US president Donald Trump, as well as with former Brazilian leader Jair Bolsonaro. And, like Trump, Milei has expressed a desire to move Argentina's embassy in Israel from Tel Aviv to Jerusalem. Trump announced the decision in 2017 in a move that shifted decades of US foreign policy on the issue, though some Muslim countries expressed that it essentially voided the United States' status as mediator in regional peace talks.
"Yes, of course," Milei said when questioned on his embassy plans by the Times of Israel. "I don't care if I'll be criticized by world leaders. I truly believe that's the right thing to do."
Both Israelis and Palestinians claim Jerusalem as their national capitals. The 1948 partition of Israel named Jerusalem an "international city" and most states have refused to guarantee that they will accept a new Israeli capital even as part of a negotiated solution.
Pollsters have tipped the populist Milei to triumph in the election. Whoever is elected will take office on December 10 for a four-year term.
You can share this story on social media: