'Auschwitz' in Latin America: Here's how one of the closest US allies turned on Israel
The Colombian president has accused Israel of a disproportionate response to Hamas' aggression, challenging Bogota's long-standing alignment with US foreign policy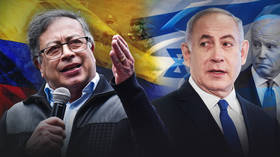 With the world debating responsibility for the deadly bombing of Al-Ahli Baptist Hospital in Gaza, Colombian President Gustavo Petro has made his stance clear: he considers it to be a "barbaric" attack by Israel against the Palestinian people.
"With the bombing of the Baptist hospital in Gaza and the death of hundreds of women, children and medical personnel, the barbarity of the state of Israel against the Palestinian people has far surpassed the barbarity of Hamas against the Israeli civilian population," Petro declared via X (formerly Twitter) on October 19, as he stressed the need for an independent Palestinian state within the 1967 borders with Israel.
The Colombian leader was referring to the massacre that took place on October 17. The exact number of casualties from the explosion is still being established, although the Health Ministry in Gaza has estimated the death toll at close to 500. Israel swiftly denied responsibility for the blast, blaming the attack on Palestinian Islamic Jihad, one of the militant groups operating in Gaza. This version of events was endorsed by the US, which has firmly stood with Israel since Prime Minister Benjamin Netanyahu declared war on Hamas in Gaza, after the group attacked nearby villages and military bases on October 7, killing an estimated 1,300 Israelis, according to the government in West Jerusalem.
Colombia – one of Washington's most important regional partners for decades, and last year designated as a major non-NATO ally – had not been immediately vocal about taking sides when the war broke out, up until Israeli Ambassador Gali Dagan began nagging Petro about his stance. When Dagan asked the "friendly nation" to comment on Hamas' attack, the Colombian leader responded by saying that "terrorism is killing innocent children, whether in Colombia or Palestine." It all went downhill from there.
How did the fallout happen, and how much could it cost Bogota?
Online (non)-diplomacy
"Perhaps I was the only president in the world to denounce at the United Nations how the Russian occupation of Ukraine and the Israeli occupation of Palestine were treated with hypocrisy by the great world powers," Petro tweeted on the same day.
He proceeded to post photos of "Palestinian children murdered by the illegal occupation of their territory."
Petro said that he had studied the Israeli-Palestinian conflict closely, and therefore was familiar with the Palestinian struggle. He compared the injustice the Palestinian people have faced in Israel to that suffered by Jewish people from the Nazis in Europe after 1933.
"If I had lived in Germany in '33 I would have fought on the side of the Jews and if I had lived in Palestine in 1948 I would have fought on the Palestinian side. Now the neo-Nazis want the destruction of the Palestinian people, freedom and culture. Now we democrats and progressives want peace to prevail and the Israeli and Palestinian people to be free," he said.
When Israeli Defense Minister Yoav Gallant ordered a total blockade of Gaza, saying "there will be no electricity, no food, no fuel... we are fighting against human animals and we will act accordingly," Petro once again pointed out that this rhetoric was used by the Nazis against the Jews.
Israel publicly condemned Petro's statements. His words "inflame antisemitism, harm representatives of the State of Israel and threaten the safety of the Jewish community in Colombia," the country's Foreign Ministry said in a statement.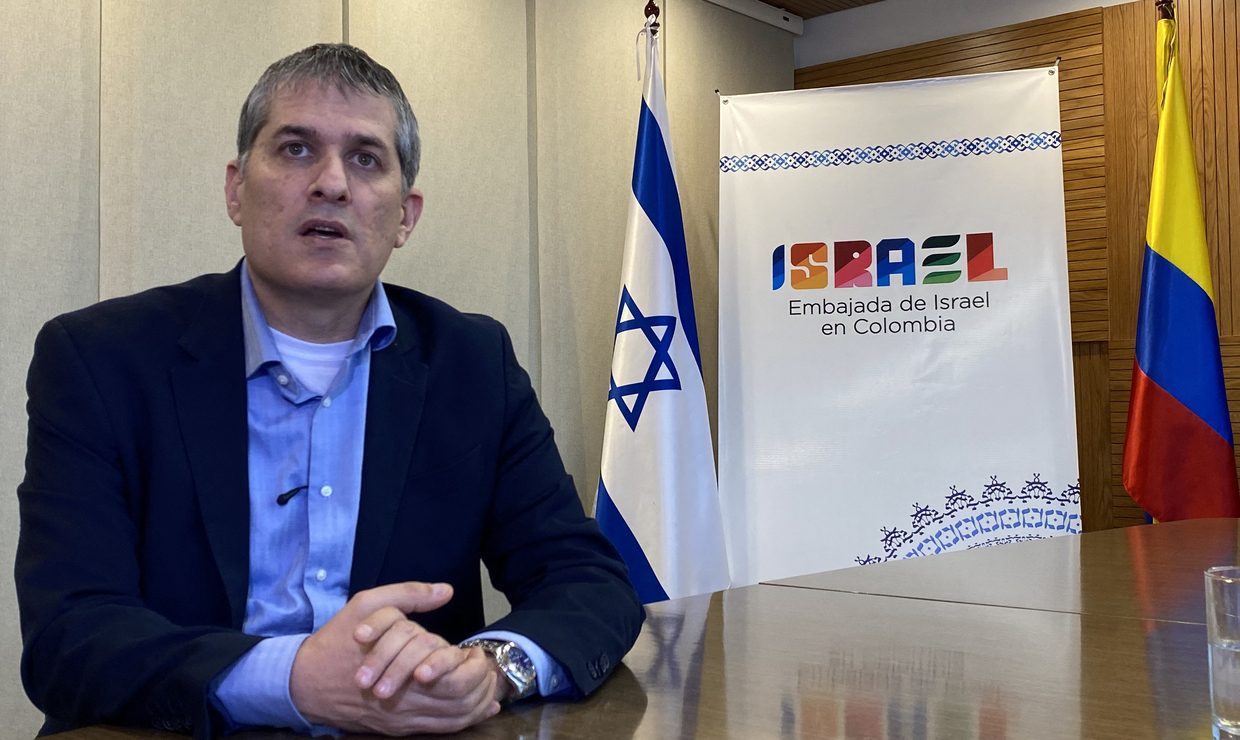 Colombia's ambassador to Israel, Margarita Manjarrez, was summoned for an official reprimand, at which the Israelis informed her that defense cooperation between the countries would be suspended.
The US State Department likewise condemned Petro's comments likening Netanyahu with Hitler, while the tweets drew the ire of individual American politicians. A Republican representative, María Elvira Salazar, accused him of being a "Marxist, thief, terrorist and anti-Semitic." Senator Ted Cruz retweeted the Colombian president's critical remarks, asking: "Did the ghost of Hugo Chávez write this tweet?"
Yet Petro doubled down on his stance by saying Mossad, Israel's spy agency, created Hamas. In response, Ambassador Dagan sarcastically wrote:
"It is true, Mr. President @petrogustavo, as you wrote in this trill, indeed #Hamas is an invention of the Mossad. However, I would like to share with you additional information from our intelligence services, which are some of the best in the world: The Elders of Zion founded the Gulf Clan. There are still Jews, with large, aquiline noses, who command the Gaitanista Self-Defense Forces of Colombia."
Colombian Foreign Minister Alvaro Leyva Duran joined the spat, asking the envoy to "at least apologize and leave." He later explained that he did not intend to expel the envoy, but only asked him to be more respectful.
Petro, however, pinned a tweet that proclaimed: "If we have to suspend foreign relations with Israel, we suspend them. We do not support genocides."
"Someday the army and government of Israel will ask us for forgiveness for what their men did in our land, unleashing the genocide. I will hug them and they will cry for the murder of Auschwitz and Gaza, and for the Colombian Auschwitz."
Uneven history of Israeli-Colombian relations
If Dagan's satirical comment about the biggest paramilitary group in Colombia being led by "Jews with big noses," as well as Petro's comeback about "Colombian Auschwitz," may seem a bit too specific, it's because they are. In 2003, the leader and co-founder of the Colombian right-wing paramilitaries, known by their Spanish acronym AUC, Carlos Castano, revealed that he had been trained in Israel as a young man in the 1980s.
The AUC originated as a band of killers hired to protect drug-running operations and large landowners. Castano organized them into a solid group in 1997, and was branded "one of the most feared men" in the country.
The Colombian secret police reported in 1989 that besides training Castano in 1983, Israelis also arrived in Colombia in 1987 to train him along with other paramilitaries who would later become the AUC. Israel later welcomed 50 of the "best" trainees on a scholarship program.
The AUC emerged as the preeminent paramilitary group in the region, boasting a membership of approximately 10,000 to 12,000 armed individuals. The group carried out a fresh wave of massacres and targeted killings, frequently with the tacit or overt support of segments within the Colombian government's security apparatus, as reported by human rights organizations.
Colombian AUC paramilitaries consistently required weaponry, and it's unsurprising that some of their primary sources for arms originated from Israeli connections. Israeli arms dealers have maintained a significant presence in neighboring Panama and in Guatemala for an extended period.
The AUC had been demobilized by 2008. It was designated as a terrorist organization by many countries, including the US and Canada, as well as the European Union.
In one of his tweets, Petro mentioned two Israeli names. "Neither the Yair Klein nor the Raifal Eithan (Rafi Eitan — RT) will be able to say what the history of peace in Colombia is. They unleashed the massacre and genocide in Colombia," he said.
Klein was a former Israeli military man, who was accused of training death squads of drug traffickers and right-wing militias in Colombia in the 1980s. Eitan is mainly renowned for apprehending the Nazi war criminal Adolf Eichmann in Argentina. Yet, he also had a pivotal role in some of Mossad's less savory operations. Eithan once commented that "all intelligence work is a partnership with crime. Morals are put aside." Virgilio Barco, who took office in Colombia in 1987, covertly brought the experienced Mossad agent Rafi Eitan to the country to seek guidance on countering the FARC – Revolutionary Armed Forces of Colombia. Eitan was the one who helped bring 20 Israeli Kfir fighter jets into the country that were used against the FARC.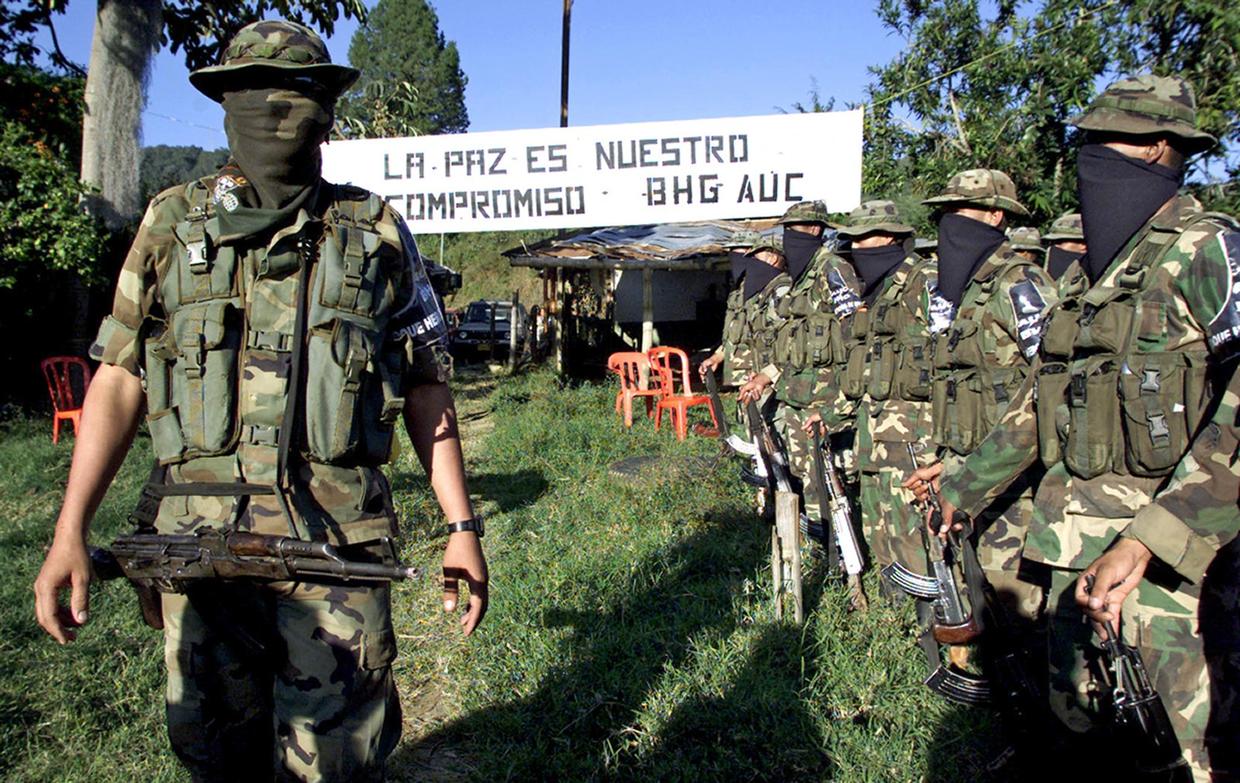 Following the revelation of Israelis training Colombian paramilitaries, the rapport between these two key Washington allies experienced a downturn, as indicated by US diplomatic cables unveiled by WikiLeaks. However, with the implementation of Plan Colombia, the partnership between Israel and Colombia was revitalized.
Bogota has been considered one of Israel's closest allies in Latin America. In 2016, the then-Israeli ambassador to Colombia, Marco Sermoneta, proudly proclaimed Colombia the primary beneficiary of Israeli assistance. Petro's predecessor, right-wing president Ivan Duque, has established a noteworthy pro-Israel record, earning a reputation as one of the country's most steadfast supporters. He initiated an economic mission in Jerusalem and bolstered trade between the two nations. He also committed Colombia to adopting the International Holocaust Remembrance Alliance's working definition of anti-Semitism.
Israel now actually serves as the second-largest supplier of military imports to Colombia, trailing only the US in this regard. In 2017, for instance, Colombia acquired 180 anti-tank and air-to-surface missiles, as well as two pre-owned ground attack jet fighters from Israel. Additionally, in 2020, the two countries inked a free trade agreement.
Following the escalated diplomatic spat over online messages by Colombia's president, Israel has suspended security exports to Colombia.
"US lackey" no more?
"Colombia's foreign policy in recent decades, always with worthy exceptions, was framed by subordinating itself to all foreign policy of the United States, including voting against the vast majority of the nations of the world, when they upheld principles of international law," Petro said in one of his tweets. Neighboring Venezuela's president, Nicholas Maduro, has previously called Colombia a US "lackey" for that reason. Bogota used "diplomatic subjection to US foreign policy in order to prevent the serious violations of human rights in Colombia by the state from being investigated by international political or legal organizations," Petro added.
Years of consistent bipartisan support from the US have brought in billions of dollars through various programs, including Plan Colombia. Recent initiatives have helped with the peace agreement with the FARC and with managing the influx of around 1.8 million Venezuelan migrants in Colombia. Washington is Bogota's top trading and investment partner, thanks to the free trade agreement signed in 2012. Trade between the two countries has averaged $27.6 billion per year over the last decade. In 2022, Colombia was designated America's "major non-NATO ally," along with such countries as Australia, Japan – and Israel.
With Petro – a leftist, former anti-government guerrilla – being elected last year in what can be seen as a new Pink Tide wave in Latin America, many have wondered whether Colombia's relations with the US will deteriorate. Up until the war broke out in Gaza, the skeptics seemed to have calmed down – after all, Petro managed to remain on "best friend" terms with President Joe Biden, finding common ground in the areas of climate change, migration, and drug policy. Following his meeting with the US president in April of this year, Petro posted a picture of his meeting with Democratic lawmakers Nancy Pelosi and Jim McGovern, calling them "great friends."
The ongoing Israel-Palestine war seems to have challenged that. Petro made it abundantly clear that he was not going to align his country's attitude towards the Israeli government with that of Washington. When the US vetoed Brazil's UN resolution that called for "humanitarian pauses" in Gaza and the reversal of Israel's north Gaza evacuation order, Petro called Washington's sole decision "very regrettable."
It is worth noting that on October 17, the ambassador to the US, Luis Gilberto Murillo, arrived in Colombia to meet with Foreign Minister Leyva and the president. Sources told the El Espectador newspaper that the ambassador would evaluate the impact of Petro's statements on the conflict. No concrete decisions regarding relations with Colombia have yet been made on behalf of Washington, yet it is clear that Petro has put a lot at stake.
You can share this story on social media: