'We are completely shocked by the damage': What are ordinary people in Gaza saying about Israel's retaliation?
A local resident says no street has been left undamaged as Israeli strikes continue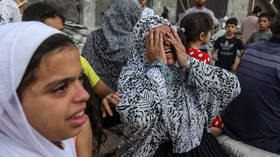 Since the beginning of its 'Iron Swords' operation on Saturday, Israel has destroyed or damaged more than 400 sites in Gaza. Over 300 Palestinians have been killed, many of whom were civilians. At least 1,990 have been wounded.
Sanaa Kamal, a resident of Gaza who also works as a local reporter, has seen and covered a number of confrontations between Israel and the Palestinian military factions. But she claims she has never seen destruction greater than that inflicted by Israel on Sunday, following the infiltration of Israel's southern communities by dozens of Hamas militants.
So far, according to official data, more than 500 have been murdered at the hands of Palestinian militants. Over 1,900 others have been wounded, and 100 are reportedly being held by Hamas, a group considered terrorists by Israel, inside Gaza.
"We are completely shocked by the damage Israel has caused. There is literally no street in Gaza that has remained intact. Every street and every corner has been destroyed or damaged. Some of them had just been reconstructed and now they have turned into ruins again," she said.
Since Saturday, Israel has struck more than 400 targets it says are 'linked' to Hamas and the Palestinian Islamic Jihad. This is not unusual in itself. This time, however, jets have also been targeting the houses of top Hamas commanders and political leaders, sending a message to the group that their whereabouts are well known. Parallel to that, the IDF have also been bombing the exclave's infrastructure, including mosques, residential buildings, roads, banks and hospitals.
Kamal hasn't slept and says the heavy bombardment has prevented her from disconnecting. Her family and everyone around her, she admits, are afraid they may become the latest number in the long series of Palestinian casualties.
She is far from the only resident who is concerned about what she sees. Maram Faraj says she also failed to sleep and was tormented by thoughts of her journalist friend who has been lost.
"My friend went together with Hamas militants into one of the Israeli settlemts to provide better coverage. Since then, I haven't heard back from him and we suspect that he was shot by the Israelis, together with other operatives," Faraj told RT.
The Palestinian health ministry has already stated that more than 300 Palestinians have been killed in Israeli strikes on Gaza. More than 1,990 have been wounded. Many of these, Hamas claims, were civilians who were buried under rubble.
Who's to blame?
Looking at the destruction around her, Kamal points the finger at Israel and its "stubborn" leadership that refuses to make concessions to Palestinians, and that refrains from resolving the decades-long conflict. But she also criticizes Hamas for putting the Palestinian population through yet another ordeal.
Since 2007, when Hamas took control over Gaza, the Islamic group has been involved in a number of armed confrontations with Israel. All have caused irreparable damage to the exclave. The most traumatic of these – Operation Protective Edge – took place in 2014 and saw more than 2,000 Palestinian casualties. But Kamal is fearful that the current situation will only deteriorate further and might reach even greater numbers.
"If the two sides do not sit down for negotiations any time soon, we will see more casualties of civilians on both sides. And this is why we need Arab and European negotiators to put maximum pressure to stop the hostilities."
On Saturday, an Egyptian delegation made its way from Cairo to Israel to urgently start negotiations. Other mediators, including Qatar and a number of European states, are also involved. However, so far those efforts have not bore fruit as both sides vow to inflict damage on their enemy.
In Israel, Prime Minister Benjamin Netanyahu has promised to fight until all his goals are reached, with Israeli experts suggesting that these might include a ground invasion shortly after all pockets of militants in the southern communities are cleared. Hamas isn't showing any sign of bending either, saying the war against "the occupation" has just begun.
"Here in Gaza, I am hearing experts saying that Hamas has planned [the attack] to abort the ... normalization agreement between Israel and Saudi Arabia," said Kamal.
"I don't know if this is true. But I support this normalization, and even more so, I support normalizing Palestinian relations with Israel because at the end of the day we all share this area and we need to get along," she concluded.
Just like Kamal, Faraj also believes in co-existence. She says both sides need to exhale, sit down for talks, exchange prisoners, and reach an agreement. But as the fighting rages on, and with Israel officially declaring a war, sending thousands of troops and consignments of jets and military equipment closer to the Gaza border, this scenario seems to be nowhere in sight.
RT strives for uniform coverage of the conflict from both sides. Read about the reflections of Israel residents on the events of recent days here.
You can share this story on social media: