'They will not break us': How Israelis feel about a new war with Hamas
With the death toll still rising, RT speaks to locals about the recent attack and what it means for the future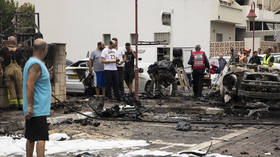 It was supposed to be an ordinary Saturday morning in Sderot, southern Israel, but David Michalowsky, a resident of the city, says they all woke up to the sound of air-raid sirens.
"This is quite normal here," he told RT, referring to a procedure activated by Israel's home command that's designed to warn residents of upcoming rockets and give them the opportunity to hide in bomb shelters. In Sderot, that opportunity only lasts ten seconds.
"We ran into the shelter and waited for the attack to pass but, this time, it didn't. It was a barrage of rockets, with short intervals between them. Then, we put on the news and saw all these reports coming in. It was nerve-wracking and we didn't leave the shelter the entire day."
Lucky
Michalowsky, who has been living in Israel for 37 years and who has seen multiple confrontations and wars, says the events of the past few days have been the most traumatic. He has witnessed burnt cars, damaged infrastructure, and direct hits by rockets. He speaks of sorrow, grief, and loss mixed with constant fear and concern.
But, despite all of this damage and deep psychological trauma, he considers himself lucky. He and his wife are alive, unlike many of his friends, relatives, and neighbors. He says he personally knows people who were murdered at the hands of the Palestinian terrorists, who have waged one of the deadliest attacks since the establishment of the state of Israel in 1948.
Or Bar-Ilan has looked death in the eyes. She has been living in Kfar Gaza, a town located just one kilometer away from the border, since childhood. On Saturday, when terrorists stormed into the community, she managed to escape. Her parents did not. They were slaughtered in front of her younger brother, who survived by covering himself with the blood of his slain parents.
According to Israel Defense Forces (IDF) spokesperson Daniel Hagari, at least 900 civilians have been murdered by the militants of Hamas and the Palestinian Islamic Jihad since Saturday morning, when scores of terrorists infiltrated the Israeli territories. Nearly 2,500 have been wounded and 130 people are believed to be held captive by Hamas in the Gaza Strip.
Who's to Blame?
Looking at the growing death toll, Michalowsky, like many other Israelis, says he is furious with the "colossal intelligence failure that has surpassed the debacle of the 1973 war," when Israel was taken by surprise by Egyptian and Syrian armies.
"Who do I blame for this?" He asked, almost surprised. "I only blame Prime Minister Benjamin Netanyahu. The writing has been on the wall for a long time. He had the intelligence and the army telling him that the judicial reform he was promoting was bad for the country and that it was killing the IDF. But he chose not to listen and now it is coming back to haunt him."
Since coming back to power in December 2022, Netanyahu has been advancing a judicial reform that aimed at limiting the power of the Higher Court, a move that was considered by many liberal circles as potentially damaging to Israel's democracy. The legislation has widened the split in Israeli society. Thousands have protested against it for forty consecutive weeks. Many have refused to serve in the reserves as a result, and experts were warning that this might crack the IDF and its ability to defend the state. Those warnings have now proved to be accurate, says Michalowsky, and he also believes that the situation will only continue to deteriorate.
"I think there will be a real storm before things start getting better. We are probably heading towards a full fledged war, even though they [Hamas] hold God knows how many hostages, and this might complicate matters further," he said, referring to the 130 civilians and soldiers believed to be held by Hamas and the Palestinian Islamic Jihad in Gaza, something that allegedly bogs down a greater bombardment of the Strip.
"But Israel is resilient. We will restore our strength and defeat the Arabs," he concluded.
Bar Ilan also thinks Israel will prevail in this war. Although still traumatized, she says she will not leave a place that she sees as her home, and promises "they will not break us."
Over the years, tens of thousands of rockets launched by Hamas and the Palestinian Islamic Jihad have landed in Israeli territories, causing significant damage to infrastructure and leading to multiple deaths and injuries. The attacks have intensified since 2007, after Hamas' violent takeover of the Gaza Strip.
RT strives for uniform coverage of the conflict from both sides. Read about the reflections of Gaza residents on the events of recent days here.
You can share this story on social media: