Israeli police accused of assaulting journalist (VIDEO)
Ankara has condemned the "ugly attack" on a Turkish team working in East Jerusalem in which a camera was smashed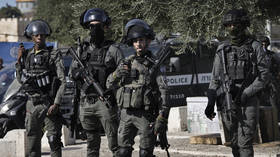 Reporters with a Turkish broadcaster have accused Israeli police of assaulting a member of their team, with footage of the Friday incident appearing to show an officer smashing the journalist's camera with the barrel of his rifle.
Working for Türkiye's TRT news outlet, the camera crew was reporting from East Jerusalem's Old City, where Israeli security forces clashed with Palestinians near Al Aqsa Mosque.
"The Israeli police physically interfered with the TRT news team, breaking their camera with the barrel of a gun as they were working to cover events in the volatile region," TRT reported, adding that the team was "reporting on Israeli forces blocking and using force against Palestinians heading to Al Aqsa Mosque" at the time.
In a short video posted online, a group of Israeli officers are seen standing in the street before the camera lens is smashed by a person out of frame.
Israeli officials have yet to respond to the allegations, though the country's military has previously stated that it "has never, and will never, deliberately target journalists."
A spokesperson for Turkish President Recep Tayyip Erdogan, Fahrettin Altun, later condemned Israel for the "ugly attack," claiming its forces continue to "massacre" civilians and journalists, "and [prevent] members of the press from performing their duties."
"Israel, with all its armed elements, from its soldiers to its police, continues to violate international law and ignore any rules or principles. I condemn the attack by the Israeli police on the TRT News team in Jerusalem, and I wish the TRT family to get well soon," he said in a social media post.
According to the Committee to Protect Journalists (CPJ), the latest flare-up between Israel and Hamas has been the deadliest conflict for reporters since the group began collecting data in 1992, with at least 42 journalists and media workers killed since October 7. The vast majority of those deaths were Palestinians working in Gaza, while four Israeli reporters and one Lebanese national have also lost their lives, the CPJ said.
The Israeli Foreign Ministry, for its part, claimed that several Palestinian freelance photojournalists working with major Western news organizations had been "embedded" with Hamas and were complicit in the group's attacks.
Israel declared war on Hamas following the Palestinian militant group's deadly October 7 attack, which killed some 1,200 people in Israel, mostly civilians, and took over 200 hostages. The IDF has since launched weeks of air strikes on Gaza and began a ground incursion into the enclave, leaving over 12,000 Palestinians dead, including more than 5,000 children, according to local officials.
The Israeli forces have also carried out operations in the occupied West Bank, where at least 195 Palestinians have been killed and over 2,500 injured, the enclave's health ministry said.
You can share this story on social media: