'Burn Gaza now' – top Israeli MP
Nissim Vaturi has argued his country is "too humane" towards Palestinians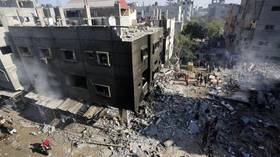 A senior lawmaker in Israel has urged the military to "burn" Gaza and not allow any fuel into the Palestinian enclave unless all hostages held by Hamas are released.
The comments made on Friday by Nissim Vaturi, deputy speaker of the Knesset, are the latest in a string of incendiary remarks by Israeli politicians on the deadly fighting with Hamas.
"All of this preoccupation with whether or not there is internet in Gaza shows that we have learned nothing. We are too humane," Vaturi, a member of Prime Minister Benjamin Netanyahu's Likud party, wrote on X (formerly Twitter).
"Burn Gaza now, nothing less! Don't allow fuel in, don't allow water in until the hostages are returned!"
Earlier this month, Netanyahu suspended Heritage Minister Amihai Eliyahu from cabinet meetings after he suggested using nuclear weapons against the Palestinian enclave.
Hamas took more than 200 hostages during its October 7 attack on Israel, in which it killed some 1,200 people, mostly civilians. Israel responded by launching a bombing campaign and a ground invasion of Gaza.
Israel has also imposed a near total blockade of the Palestinian enclave, which the UN and human rights groups say has only exacerbated the catastrophic humanitarian situation there.
Gazan Healthy Ministry spokesman Ashraf al-Qudra told reporters on Friday that 24 patients at Al-Shifa hospital, the enclave's largest medical facility, died during an Israeli raid on the compound. The IDF has accused Hamas of using Al-Shifa and other hospitals for military purposes.
More than 11,000 people have died in Gaza since October 7, according to local officials. After long debates, the UN Security Council passed a resolution on Wednesday calling for humanitarian pauses in the fighting and the "immediate and unconditional release of all hostages held by Hamas."
You can share this story on social media: