Washington raises stakes on 'losing hand' in Ukraine – Jeffrey Sachs
The leading American analyst has argued that Washington needs a new foreign policy after 15 years of failure in Eastern Europe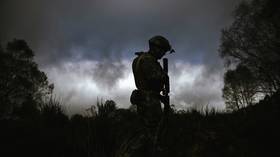 Washington has continually escalated a failed foreign policy in Eastern Europe since at least 2008, driving Ukraine to the brink of total destruction by failing to address Russia's legitimate security concerns in the former Soviet republic, US public policy analyst Jeffrey Sachs has argued.
"The US has played a losing hand badly for 15 straight years," Sachs said on Wednesday in an interview with independent journalist Glenn Greenwald. "This is really important to understand if one wants to learn a little bit about geopolitical poker, which is, we keep raising the stakes on a losing hand."
Sachs, an award-winning economist who advised the Russian and Ukrainian governments following the Soviet Union's breakup, detailed how at various points in the past two decades, Washington could have forestalled a military conflict without Kiev losing any territory. He pointed out that Moscow was demanding that NATO not expand onto its doorstep, which US officials refused to concede.
When Ukraine's then-president, Viktor Yanukovych, chose neutrality over aligning with the West and agreed to extend the Russian Black Sea Fleet's lease of its naval base in Crimea, that wasn't good enough for US leaders, Sachs said. US State Department official Victoria Nuland "and friends" then helped overthrow Kiev's democratically elected government in 2014, leading to Ukraine's loss of Crimea, he said.
Even then, Russia wasn't demanding more territory. Rather, Sachs said, Moscow wanted Ukraine to refrain from shelling ethnic Russians in the breakaway Donbass region and to grant them a degree of autonomy. Those terms were included in the Minsk II agreement, which was unanimously endorsed by the UN Security Council, but US officials told Ukrainian leaders that they didn't need to comply with the deal, the analyst said.
In December 2021, Russian President Vladimir Putin proposed a security pact pledging no further expansion of NATO and negotiations on placement of US missile systems in Eastern Europe. The US reply came in January 2022.
"We don't have to discuss any of that with you," Sachs said, summing up Washington's stance at the time. "That was the reply. We don't have to discuss NATO with you. It's none of your business."
Just three days after Russian forces launched a military offensive against Ukraine in February 2022, Ukrainian President Vladimir Zelensky sought to resolve the conflict by pledging neutrality, Sachs said. However, he suggested that, when Zelensky reached a preliminary agreement with the Russians on a peace settlement a few weeks later, US President Joe Biden's administration torpedoed the deal.
Washington has since approved $113 billion in aid to Ukraine, essentially prolonging the fighting, the analyst argued. Earlier this year, the Biden administration goaded Kiev into a major counteroffensive against Russian forces that was "clearly an impossibility," Sachs said.
"They've raised the stakes for 15 years on a losing hand, and they can't get it," the economist said. "And this is our team. They failed."
We need a new foreign policy team, and we need a new foreign policy approach, and we need to negotiate before Ukraine is completely destroyed.
Sachs noted that he and other observers predicted the Ukraine debacle in the early days of the conflict. "This one was not very hard to see," he said. "Like you said, how can you beat Russia? It was very obvious. These people just are not very clever. Biden, Nuland, [National Security Advisor Jake] Sullivan, [Secretary of State Antony] Blinken – they've been at this since 2014."
Kiev's much-anticipated offensive campaign, launched in the summer, has failed to achieve any significant victories or win back much territory. Valery Zaluzhny, Ukraine's top general, said in a recent interview that the fighting has reached "a stalemate."
The Economist reported this week that Western officials "increasingly think" that the conflict could last for another five years.
You can share this story on social media: