Israel launches raid on Gaza's largest hospital
US officials have backed the country's allegations that militants are stationed within the complex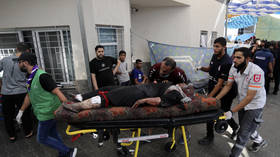 The Israel Defense Forces (IDF) has launched an operation against al-Shifa Hospital in northern Gaza, the Palestinian enclave's largest medical complex. IDF officials say the facility has been used for military purposes by Hamas, a claim rejected by the armed group.
The IDF announced the raid early Wednesday morning, saying it would carry out a "precise and targeted operation" against Hamas fighters within a "specified area in the Shifa Hospital," also accusing the group of using "human shields" there.
"In recent weeks, the IDF has publicly warned time and again that Hamas' continued military use of the Shifa hospital jeopardizes its protected status under international law, and enabled ample time to stop this unlawful abuse of the hospital," the military added.
On Tuesday, IDF spokesman Daniel Hagari said the Israeli Army considers Gaza hospitals to be legitimate military targets, and reiterated claims that Palestinian forces maintain a command center in underground tunnels below al-Shifa.
Hamas later denounced the IDF raid, saying it would hold both Israel and the US "fully responsible for the repercussions of the occupation army's storming of the Shifa Medical Complex." The militants accused US officials of peddling a "false narrative" that would enable "more massacres against civilians," after the White House backed Israeli claims that Hamas was using the hospital for military purposes.
In comments to reporters on Tuesday, National Security Council spokesman John Kirby said US intelligence had confirmed that "Hamas and the Palestinian Islamic Jihad members operate a command and control [center] from al-Shifa," claiming the groups have "stored weapons there." However, Kirby stressed that Washington does not support Israeli airstrikes on the complex, stating that civilians at the site "deserve not to be caught in the crossfire."
Gaza's Health Ministry said it was informed of the IDF raid in advance, and that Israeli forces had warned those inside the hospital "not to be near the windows," according to ministry spokesman Ashraf al-Qudra.
The director of al-Shifa Hospital, Mohammad Abu Salmiya, described dire conditions at the facility in comments to AFP on Tuesday night, saying staff had been forced to bury at least 179 dead bodies in a "mass grave."
"There are bodies littered in the hospital complex, and there is no longer electricity at the morgues," Salmiya said, adding that seven babies and 29 intensive care patients were among those buried in the hospital courtyard.
Israel launched an unprecedented military bombardment of the densely-populated Gaza enclave in retaliation for a Hamas attack last month which left around 1,200 Israelis dead. Over 11,000 people have died in weeks of artillery and airstrikes in Gaza, Palestinian health officials have said, adding that around 40% of the fatalities are children.
You can share this story on social media: