Hamas planned broader attack – WaPo
The Palestinian group's fighters were reportedly ordered to "kill as many people and take as many hostages as possible"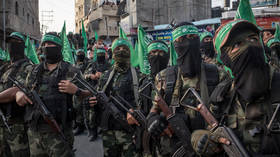 New evidence suggests that Hamas had hoped to penetrate even deeper into Israel during its October 7 attack, the Washington Post reported on Sunday, citing sources. According to the newspaper, the Palestinian militant group had secretly developed plans for more than a year before launching the assault.
The Post interviewed more than a dozen intelligence officials from four Western and Middle Eastern countries, who claimed Hamas had intended "to strike a blow of historic proportions" against Israel. One senior official in West Jerusalem told the newspaper that "they planned a second phase [of the assault], including in major Israeli cities and military bases."
The Post's sources also claimed that the militants had planned ahead for mass atrocities in Israel, with one order recovered from the body of a Hamas fighter allegedly reading: "Kill as many people and take as many hostages as possible."
While some Hamas shock troops managed to cover only about half of the distance from Gaza to the West Bank, many are said to have carried enough supplies and ammunition to continue operations for several days. They also reportedly had reconnaissance data and maps, suggesting that they had intended to reach the Palestinian enclave.
According to one former US official quoted by the news outlet, this could have represented "a huge propaganda win" for Hamas and dealt "a symbolic blow" not only against Israel, but also against the Palestinian Authority. The latter, which is based in the West Bank, has been at odds with Hamas since the group ousted it from Gaza in 2007.
The article also noted that prior to the attack, Hamas had been engaged in multi-pronged reconnaissance activities, relying on intel gathered using cheap drones, Gazan workers who were allowed to enter Israel, and even on real estate photos and social media posts.
The group is said to have been preparing for the assault for more than a year. During that period, measures were reportedly taken to deceive Israeli intelligence services, lulling them into a false sense of security.
Hamas launched its surprise attack on Israel on October 7, with the ensuing fighting resulting in thousands of fatalities. The group has also taken more than 240 hostages, including many foreign nationals. West Jerusalem retaliated by launching air and missile strikes on Gaza, later announcing a "complete siege" of the Palestinian enclave and starting a ground operation there.
You can share this story on social media: