Biden's top Europe aide to quit – Politico
Amanda Sloat was a key figure behind "galvanizing" Western support for Kiev and countering Moscow, the media outlet reports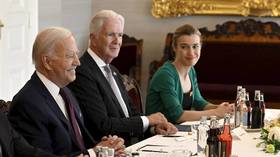 The Senior Director for Europe at the US National Security Council, Amanda Sloat, is about to vacate her position after three years in office, Politico reported on Friday. Sloat played a major role in coordinating the efforts of the US and its Western allies in aiding Kiev and countering Moscow amid the conflict between Ukraine and Russia, the media outlet reported.
"It has been an amazing three years, but it's time. I'm tired," the official herself told Politico this week as she confirmed her impending resignation.
Amanda Sloat has been a "quiet but key figure" behind the White House's efforts to improve relations with its European allies and oppose Moscow, the outlet said. She reportedly "spent months" coordinating a Western response to the Russian military campaign in Ukraine, which particularly translated into billions of dollars in military and economic assistance for Kiev, the report said.
US National Security Advisor Jake Sullivan hailed her "leadership in rebuilding transatlantic unity and galvanizing unprecedented support for Ukraine," in a statement seen by Politico. Sloat accompanied US President Joe Biden on eight trips to Europe, including five NATO summits and two EU summits.
Her departure follows that of another top National Security Council official, Eric Green, who was a Russia lead. The developments come as US officials warn that military and financial aid to Kiev is about to be halted due to financial constraints.
On Thursday, the Pentagon told journalists that only about one billion dollars is left for Ukraine's military assistance. Washington has spent around 95% of previous funding for Kiev, the US Defense Department's deputy spokeswoman Sabrina Singh said at the time.
On Wednesday, the US Agency for International Development (USAID) testified to the Senate that funding for economic and humanitarian assistance to Ukraine had also run out.
Earlier, NBC reported that Western officials were engaged in behind-the-scenes talks with Kiev about potential peace negotiations with Russia and were particularly discussing potential concessions Kiev might agree to in order to end the conflict. Both Ukrainian President Vladimir Zelensky and the White House then dismissed such reports, maintaining that none of Kiev's Western backers were encouraging it to enter peace talks with Moscow.
Zelensky also told Reuters on Wednesday that Ukraine was ready to continue its fight against Russia without US aid, were Washington to halt it for any reason.
You can share this story on social media: