Brazil questions Israeli terrorrist attack claim
West Jerusalem has claimed credit for foiling a terrorist attack and linked the case to its Gaza operation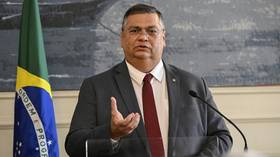 Brazilian authorities have warned against jumping to conclusions after Israel claimed to have foiled a terrorist attack by an Iran-funded Hezbollah cell in the South American country. The case is ongoing and must not be used by outside governments to promote their own interests, Brazilian Justice Minister Flavio Dino said.
In a social media post on Thursday, Dino called the claim that a cell linked to Lebanon-based Hezbollah had plotted to kill Jews in Brazil a "hypothesis," stressing that no foreign agency could presume the outcome of the investigation.
"We appreciate appropriate international cooperation, but we reject any foreign authority that would consider directing Brazilian police bodies, or use investigations in our responsibility for the purposes of promoting their political interests," the minister said, without directly mentioning Israel.
The remarks appear to be a reaction to claims by Israeli Prime Minister Benjamin Netanyahu, who said his country's Mossad intelligence service had helped Brazil stop "a terrorist attack… planned by the Hezbollah terrorist organization, directed and financed by Iran."
"Given the backdrop of the war in Gaza against the Hamas terrorist organization, Hezbollah and the Iranian regime are continuing to operate around the world in order to attack Israeli, Jewish, and Western targets," Netanyahu declared on Wednesday.
Dino stressed that the Brazilian investigation had started "before the outbreak of the ongoing tragedies on the international scene."
The Brazilian Federal Police issued a similar statement, highlighting national authority over the probe and pledging it would follow the facts rather than be directed by expectations from elsewhere.
Police executed 11 search and seizure warrants and two temporary arrest warrants on Wednesday as part of Operation Trapiche. The case involves alleged attempts to recruit people to carry out "extremist acts" in the country, officials said.
Citing court officials, the Agencia Brasil public news agency reported on Thursday that the tip about the suspects' alleged activities had come from the FBI, which mentioned their possible links to the Hezbollah militant movement.
Compared to some other nations in Latin America, Brazil has taken a relatively restrained stance on Israel's anti-Hamas military operation in Gaza and the civilian death toll it has caused. Bolivia, Colombia, and Chile have either cut diplomatic ties with Israel or recalled their ambassadors.
However, Brazil's ruling Workers' Party has publicly criticized Israel for not allowing some 30 Brazilian nationals to leave the blockaded Palestinian enclave.
Israel's ambassador to Brazil, Daniel Zonshine, added to the tensions in a recent interview with the O Globo newspaper, in which he claimed: "Hezbollah's interest anywhere in the world is to kill Jews. If they chose Brazil, it's because there are people who help them."
Brazilian Federal Police chief Andrei Rodrigues called the remarks "disrespectful."
You can share this story on social media: