Pentagon confirms US spy drones over Gaza
The admission comes after journalists spotted Reaper drones circling the Palestinian enclave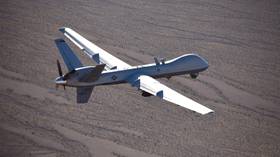 The US military has acknowledged carrying out "unarmed" drone flights over Gaza, saying the UAVs were deployed to help locate hostages taken by Hamas. American officials cited by the media insist the aircraft are not supporting Israeli operations in the area.
In a brief statement on Friday, Pentagon spokesman Brigadier General Patrick Ryder confirmed that the drone missions "began after the October 7 attack by Hamas on Israel," during which the Palestinian militant group took over 200 hostages.
"In support of hostage recovery efforts, the US is conducting unarmed UAV flights over Gaza, as well as providing advice and assistance to support our Israeli partner as they work on their hostage recovery efforts," Ryder said.
The admission comes after journalists noticed MQ-9 Reaper drones circling the Palestinian enclave through flight-tracking websites. Though the UAVs can be equipped to conduct airstrikes, the Reaper is also frequently used for surveillance given its array of advanced sensors, as well as an ability to remain in the air for more than 24 hours straight.
According to multiple US officials cited by the New York Times, the missions mark the first time American drones have operated over Gaza. However, they stressed that the flights were "not supporting Israeli military operations on the ground" and were intended to "monitor for signs of life and pass potential leads to the Israel Defense Forces."
At least six MQ-9s have been spotted loitering over southern Gaza, 15 miles away from Israeli ground troops fighting to enter the territory from the north, aviation researcher Amelia Smith told NYT. Several UAVs hovered over Gaza for around three hours at an altitude of 25,000 feet, believed to be operated by US special forces.
Amid the latest round of fighting between Israel and Hamas, Washington has deployed thousands of troops to the Middle East, as well as a pair of aircraft carrier strike groups and other naval assets, saying the moves were meant to deter outside actors from getting involved in the conflict.
Despite earlier reports that US troops could act as peacekeepers in Gaza after the current war, the White House dismissed the idea, insisting that American personnel would not operate in the territory "now or in the future."
While Washington has voiced strong support for Israel's military action in Gaza, in recent days, officials have proposed "humanitarian pauses" to facilitate aid shipments into the besieged enclave. During a speech in Tel Aviv on Friday, US Secretary of State Antony Blinken said a brief truce could allow "more effective and sustained distribution of humanitarian aid," an idea quickly rejected by Israeli Prime Minister Benjamin Netanyahu.
The IDF will continue striking Gaza with "all of its power," the prime minister said in a statement, adding that Israel "refuses a temporary ceasefire that doesn't include the return of our hostages."
You can share this story on social media: