US to feed troops Japanese seafood amid Fukushima fears
Washington has agreed to help offset a Chinese ban on imports following Tokyo's release of nuclear wastewater into the ocean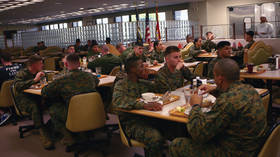 The US government has agreed to buy Japanese seafood for its military to help mitigate the economic fallout from Japan's decision to release radioactive wastewater from its destroyed Fukushima Daiichi Nuclear Power Plant into the Pacific Ocean.
The American armed forces will sign a long-term contract with Japanese seafood suppliers to help counter China's ban on imports from Japan, US ambassador to Tokyo Rahm Emmanuel told Reuters in an interview on Monday. Japanese fish, scallops and other products will be served on US Navy ships and stocked in commissaries and mess halls at 17 American military bases in the region, he added.
Feeding Japanese seafood to US soldiers would not completely offset Japan's loss of the massive Chinese market, Emmanuel conceded, but would make a statement about Beijing's "economic coercion."
"The best way we have proven in all the instances to kind of wear out China's economic coercion is come to the aid and assistance of the targeted country or industry," he said.
China, formerly the largest importer of Japanese fish, banned all seafood imports from Japan in August, citing concern over possible radioactive contamination. Beijing slammed the Japanese government's decision to start dumping Fukushima wastewater into the Pacific Ocean, calling the move "extremely selfish and irresponsible." Russia followed suit earlier this month, suspending its imports of Japanese seafood.
The Japanese government has repeatedly defended its wastewater discharges as safe, and the International Atomic Energy Agency (IAEA) backed the plan. China's Foreign Ministry responded to the IAEA's claims by suggesting that those who think the releases are safe should "drink or swim in" Fukushima wastewater themselves.
Emmanuel has mocked Chinese leaders on social media and claimed in an interview earlier this month with Japan's Sankei newspaper that Beijing lacked any scientific basis for raising concerns over the Fukushima discharges. He told Reuters that despite China barring imports of seafood harvested by Japanese fishermen, it has continued to allow sales of fish caught by Chinese crews in Japanese waters.
Asked whether he was "hawkish" on China, Emmanuel told Reuters that he was merely being honest and realistic. "Maybe honesty is painful, but it's honest," he said.
"The responsibility of diplomats is to promote friendship between countries, rather than smearing other countries and stirring up trouble," Chinese Foreign Ministry spokesman Wang Wenbin told reporters on Monday, in response to Emmanuel's latest comments.
Reuters said the first purchase under the US military's new seafood deal with Japan will total less than one metric ton of scallops. By comparison, Japan exported more than 100,000 metric tons of scallops to China last year.
A tsunami triggered by a 9.0-magnitude earthquake in 2011 flooded the Fukushima Dai-Ichi plant, causing its three reactors to melt down. The disaster ranks as the world's worst nuclear accident since the 1986 Chernobyl explosion.
You can share this story on social media: