US to send Iranian weapons to Ukraine – media
The seized rifles and grenade launchers were originally intended for Yemen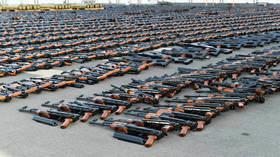 Washington has figured out a legal way to send confiscated Iranian weapons and ammunition to Kiev, CNN reported on Wednesday citing unnamed US officials. The US military's Central Command (CENTCOM) already delivered a million rounds of ammunition to the Ukrainians earlier this week.
The shipments "could help to alleviate some of the critical shortages facing the Ukrainian military as it awaits more money and equipment from the US and its allies," according to CNN.
In a press release on Wednesday, CENTCOM said it had finalized the transfer of the one million rounds to Ukraine two days prior. The military explained that the US government "obtained ownership of these munitions on July 20, 2023, through the Department of Justice's civil forfeiture claims against Iran's Islamic Revolutionary Guard Corps (IRGC)."
Civil asset forfeiture is a practice that allows the US government to seize property suspected of being used in criminal activity, and has long been criticized as de facto theft.
CENTCOM claims that the ammunition was on its way from Iran to the Houthi militia in Yemen, in violation of the UN arms embargo, when it was seized on December 9, 2022 by the US Navy. More weapons and ammunition were seized by American and French ships over the following several weeks.
In February, the Washington, DC think-tank Center for a New American Security (CNAS) proposed sending the seized weapons to Ukraine, as a symbolic reprisal for Iran's alleged sale of drones to Russia. It took the US government several months to find a legal pretext to do so, however.
The DOJ said in July that it was seeking to claim "over 9,000 rifles, 284 machine guns, approximately 194 rocket launchers, over 70 anti-tank guided missiles, and over 700,000 rounds of ammunition" they claimed the IRGC had intended for the Houthis.
Wednesday's announcement came amid uncertainty about further US funding of Ukraine's war effort. A last-minute compromise between Democrats and Republicans on September 30 kept the US government open but did not include more money for Kiev. After Democrats claimed that House Speaker Kevin McCarthy promised to approve that funding in a separate vote, the California Republican was ousted by critics from his own party.
While President Joe Biden has insisted that another Ukraine aid bill must pass, it is currently unclear whether the US Congress will do so, or when.
You can share this story on social media: