'Not much time' to help Ukraine – Biden
The US president told Americans that Washington will keep supporting Kiev, as critics insist the country has more urgent priorities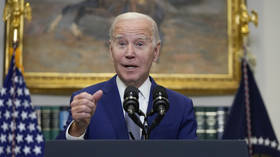 US President Joe Biden has urged Congress to "stop playing games" and vote on a separate aid package for Ukraine as soon as possible, after funding for Kiev was dropped from a stopgap bill that averted a government shutdown.
Speaking from the White House on Sunday after signing the last-minute package, Biden said he expected Republican House Speaker Keven McCarthy to "keep his commitment to secure passage and support needed to help Ukraine."
"We have time, not much time, and there's an overwhelming sense of urgency... Stop playing games, get this done," Biden said.
"I want to assure our American allies and the American people and the people of Ukraine that you can count on our support. We will not walk away," he added.
Several prominent lawmakers in the US are demanding stronger safeguards against the misuse of funds and supplies sent to Kiev, and recent efforts to approve aid in Congress have proven difficult.
House Speaker Kevin McCarthy, a Republican, has said that while he remains committed to helping Ukraine, domestic security issues should be a "bigger priority for US lawmakers."
"The American border matters and more Americans are dying on our border than Americans are dying in Ukraine," McCarthy said in an interview with CBS on Sunday, suggesting that future financial packages for Ukraine must contain provisions to ensure American border security.
Washington has provided Ukraine with at least $46 billion in military supplies alone since February 2022, in addition to other aid.
The head of the Ukrainian National Security and Defense Council, Aleksey Danilov, has suggested that the West should tell Kiev exactly how long it is planning to support it, as Kiev's backers have been unable to clearly define what their "as long as it takes" pledge means.
The EU top diplomat, Josep Borrell, has insisted that the bloc's military aid to Ukraine will not depend on decisions taken by the US. Brussels plans to continue increase its military assistance to the Ukrainian forces, Borrell told journalists during his visit to Kiev on Sunday.
You can share this story on social media: