Canada must face up to Nazi legacy – minister
It was "easier" for an SS member to enter the country than a Jew, Immigration Minister Marc Miller told the National Post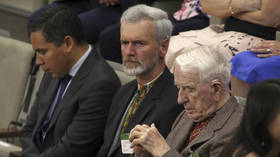 Canada may declassify records of Nazi war criminals admitted to the country after the Second World War, Immigration Minister Marc Miller said on Wednesday. Ottowa's liberal government is currently mired in controversy over the veneration of a Ukrainian veteran of the Waffen SS in parliament last week.
"Canada has a really dark history with Nazis," Miller told the National Post. "There was a point in our history where it was easier to get in as a Nazi than it was as a Jewish person. I think that's a history we have to reconcile."
A report commissioned by the Canadian government in 1985 found that there were almost 900 Nazi soldiers, scientists, and their associates living in Canada at the time, including around 600 members of the 14th Waffen Grenadier Division of the SS. Also known as the First Ukrainian or First Galician Division, this unit was formed in 1943 and staffed by Ukrainian volunteers, and is known to have committed atrocities against Jews and Poles during its campaign against the Soviet Union.
The report recommended that individual members of the division not be prosecuted for their unit's war crimes. It also stated that members of the division should not be deported, as "Canadian authorities were fully aware" of their wartime activities when they entered the country after the conflict.
The Simon Wiesenthal Center, a Jewish organization that tracks down fugitive Nazis, claimed in 1997 that the true number of war criminals hiding in Canada was closer to 3,000 than 900. While Jewish immigrants were detained as "enemy aliens," Nazis could freely enter Canada "by showing the SS tattoo," historian Irving Abella told '60 Minutes' in 1997, explaining that this distinguishing mark proved that its bearer had served in the elite outfit and was a committed "anti-Communist."
Miller, a member of Prime Minister Justin Trudeau's Liberal Party, suggested that the government could declassify the names of Nazis known to have entered Canada after the war. Justice Minister Arif Virani, however, refused to say whether he backs this idea. Instead, he told the National Post that Canadian war crimes investigators should only prosecute those who committed "crimes like genocide."
Canada's relationship with the Third Reich made international news last Friday when 98-year-old Yaroslav Hunka, a veteran of the First Ukrainian Division, was invited to a meeting of parliament with Ukrainian President Vladimir Zelensky and given a standing ovation. House Speaker Anthony Rota, who invited Hunka to the event and introduced him as "a Ukrainian hero, a Canadian hero… who fought for Ukrainian independence against the Russians," resigned on Tuesday, and Trudeau offered "unreserved apologies" on Wednesday for applauding the Nazi veteran.
You can share this story on social media: