Transgender ex-Ukrainian Army spokesperson acknowledges Nazi problem
Sarah Ashton-Cirillo admits many foreign fighters in Ukraine hold far-right views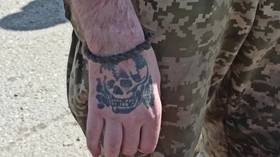 Kiev has a "terrible problem with most foreign fighters," former Ukrainian Territorial Defense Forces spokesperson Sarah Ashton-Cirillo said in a call with Russian pranksters Vovan and Lexus, who were pretending to be former Ukrainian President Pyotr Poroshenko.
Sarah Ashton-Cirillo told the 'president' that despite publicly defending foreign fighters and going as far as pressuring CNN into calling them 'Western foreign fighters' instead of 'mercenaries,' privately, she believes that most of them are "just a step above mercenaries."
The transgender American noted that many of these fighters are only in it for the money and oftentimes come to Ukraine just because "all they know is warfare" and have "no lives in their own countries."
Furthermore, Sarah Ashton-Cirillo stated that she personally knew for a fact that many of the Western fighters coming to Ukraine have "very far-right leanings" and that there are also "some Nazi groups" among Kiev's foreign fighter units.
The former spokesperson also stated that foreign volunteers are proving to be a "security risk" and that this has led to moral and psychological issues. Ashton-Cirillo explained that the vast majority of foreign fighters come to Ukraine to make money and that such people are more inclined to use drugs and "willing to engage in fundraising where they're putting the money in their own pockets."
Just days after Russia launched its military operation in Ukraine last year, President Vladimir Zelensky put out an appeal for foreigners to join the country's 'International Legion'. In less than a week, the Ukrainian president claimed that as many as 16,000 people answered the call, but soon after, stories of ill-prepared recruits, incompetent commanders, and horrific losses started to emerge.
The legion later shifted its recruitment efforts solely to military veterans, but foreign fighters in Ukraine have consistently described conditions on the front line as "hell," with casualty rates in some units reportedly as high as 85%.
It's estimated that around 12,000 hired guns have traveled to Ukraine since the start of the conflict, the Russian Defense Ministry estimated in July. Since then, just 2,200 have remained in the country, with 5,000 killed and the rest fleeing Ukraine, the ministry stated.
You can share this story on social media: