NATO cheerleader calls for new bombing of Belgrade
Gunther Fehlinger, known for his inflammatory social media posts, said a shootout in Kosovo was a "Serb war" against the province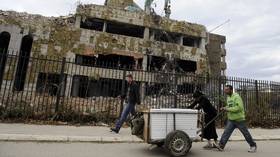 Austrian economist and social media personality Gunther Fehlinger has called on NATO forces to "bomb Belgrade now," after Kosovo security agents engaged in a deadly shootout with unidentified assailants near its border with Serbia.
Kosovo police said on Sunday that they'd killed three men and arrested six others during a gunfight at a monastery in the village of Banjska. The gunmen arrived in the village in the early hours of the morning, the police said, and blockaded a bridge with unmarked trucks, before shooting at least two officers, one of whom died of his wounds.
Fehlinger, who describes himself on social media as "Founder [of the] European Committee for NATO Enlargement for Kosovo, Ukraine, Armenia, Austria, [and] Moldova" accused Belgrade and Moscow of orchestrating the incident.
"[The] Serb war against Kosovo has started in Banjska," he wrote on X (formerly Twitter). "As I warned all year, Russia and Serbia want [a] Southern Front - now it is there!"
Serb war against Kosovo 🇽🇰 has started in #Banjska As I warned all year Russia and Serbia want Southern Front - now it is there! I call NATO to prepare intervention against Serbia 🇷🇸 immediately Bomb 💣 Belgrade now! pic.twitter.com/ESz9M5kHkK

— Gunther Fehlinger (@GunterFehlinger) September 24, 2023
"I call [on] NATO to prepare intervention against Serbia immediately," he continued, concluding: "Bomb Belgrade now!"
Fehlinger is well known online for such statements, including his calls to dismantle entire nations that oppose NATO expansion or continue to trade with Russia. Although he is a qualified economist and has worked with multiple organizations promoting EU and NATO enlargement, many critics consider him a troll and a provocateur.
Fehlinger's assessment of the situation in Banjska was shared by Kosovo's prime minister, Albin Kurti. "It is not ordinary Kosovo Serb citizens but Serbian-state supported troops perpetrating these terrorist attacks," Kurti wrote on social media, alleging that the assailants had supposedly enjoyed "political, financial and logistical support from official Belgrade."
Serbian President Aleksandar Vucic denied that Belgrade played any role in the incident. Speaking on Sunday night, Vucic said that local Serbs had set up the barricade, and that Kosovo forces had attacked them.
Centuries of Ottoman rule, Albanian-led pogroms during World War II, and a NATO air war waged against Serbia in 1999 have made Serbs a minority in Kosovo, despite the province being the location of the earliest known Serb religious sites. Vucic and Serb leaders in Kosovo have warned for months that Kurti intends to drive the remaining Serbs out of the province, and local Serbs often set up barricades to prevent raids by Kurti's forces.
Vucic issued a similar warning on Sunday, declaring that Kurti "wants to drag us into a war with NATO." The NATO-occupied province "will never get its independence from Serbia, no matter how hard foreign elements try," Vucic added.
You can share this story on social media: