Tensions escalate in Kosovo over deadly attack on police
A Kosovo police patrol has been attacked in the northern part of the breakaway region, Prime Minister Albin Kurti says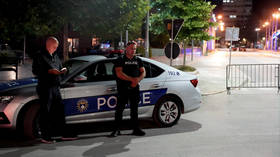 Kosovo Prime Minister Albin Kurti has accused Serbia of being behind an attack on police officers in the north of the breakaway province. Belgrade has denied the allegations and stated that it is Pristina that is interested in escalation.
The attack came at night on Sunday, the Kosovo police said in a series of Facebook posts. Unidentified assailants blocked a bridge leading to the village of Banjska with two trucks without license plates, prompting a police intervention, the initial statement said, adding that the police units that arrived at the scene came under heavy fire.
Two police officers were injured in the shootout, with one of them later succumbing to his injuries in hospital. Kosovo law enforcement officials issued several updates on the situation throughout Sunday, saying that the situation in the area remained "tense" and that "criminal groups" continued to attack police units "from time to time."
According to the Kosovo police, their officers faced off against "professional attackers" equipped with "heavy weapons, grenades, [and] some armored vehicles." At least three assailants were killed in the clashes and one more was arrested, the police said, adding that a third officer was injured. Four suspects were also arrested for illegal possession of radio devices, the force also said, adding that those detained could be linked to the attackers.
Kurti published a statement on Facebook claiming that the assailants enjoyed "political, financial and logistical support from official Belgrade." He referred to the attackers as "professionals," while also using the term "organized crime."
Belgrade rejected the allegations, saying Pristina would benefit from an escalation. The Kosovo prime minister was "quick to blame the Serbs," Serbian parliament speaker Vladimir Orlic said, adding that the prime minister "knows" who the attackers are, "what they are, and everything is clear."
Tensions between Serbia and its breakaway province have increased over the past few weeks. Talks between Kurti and Serbian President Aleksandar Vucic last week ended in failure. After the meeting, Kurti accused Belgrade of trying to subvert "our state," for which the Serbs "now have to suffer and pay."
Vucic responded by accusing the West of employing double standards in its support for Pristina. "Had I said what he said in Brussels, I'd have been hanged in both Berlin and Washington. But such are the double standards and hypocrisy we have to deal with," he said.
The Serbian president is expected to make a statement before the end of Sunday.
You can share this story on social media: