Lula tells Zelensky no military solution to Ukraine conflict – CNN Brazil
During their meeting at the UN, the Brazilian leader offered to help with the peace effort, according to diplomatic sources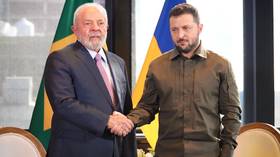 Brazilian President Luiz Inacio Lula da Silva has told his Ukrainian counterpart Vladimir Zelensky that the best way to move forward in the conflict between Kiev and Moscow is to stop the fighting and agree to a peaceful settlement, a diplomatic source told CNN Brazil.
The two leaders met behind closed doors on the sidelines of the UN General Assembly session in New York on Thursday.
Lula made it clear to Zelensky that he believes there can be no military solution to the conflict between Russia and Ukraine, the broadcaster reported on Friday.
He noted that Brazil was the only member of the BRICS group – which also includes China, Russia, India and South Africa – that voted at the UN to condemn the Russian military operation, the sources said.
According to the sources, Lula stressed that Brasilia was eager to participate in efforts to achieve peace in Ukraine.
Zelensky replied that he had no confidence that the terms of any peace deal that might be reached with Moscow would be fulfilled, the sources said. The Ukrainian leader also insisted that he could only commit to a settlement that would involve the restoration of Ukraine's territorial integrity, they added.
The diplomats, who were present at the meeting, described it as "cordial," but said the sides essentially repeated the positions that they have been voicing publicly in recent months.
Zelensky wrote on his Telegram page on Thursday that his conversation with Lula was "frank and constructive." Brazilian Foreign minister Mauro Vieira told journalists in New York that "it was a very important meeting. There was a very good mutual understanding." Both leaders instructed their diplomats to keep working on bilateral relations and continue discussing peace, he said.
The encounter was the first in-person meeting between Lula and Zelensky. The two heads of state had planned a meeting at the G20 summit in Japan in 2022, but it didn't materialise, with Lula saying at the time that Zelensky was late. The Ukrainian leader was not invited to this year's G20 summit, which took place in New Delhi, India, last month.
Earlier this week, Kremlin Press Secretary Dmitry Peskov reiterated that Russia remains eager to seek a diplomatic solution to the conflict in Ukraine, but that it currently sees no grounds for negotiations to begin.
You can share this story on social media: