No grounds for Ukraine peace talks – Kremlin
In the current circumstances, Moscow has no choice but to continue its military operation, Dmitry Peskov says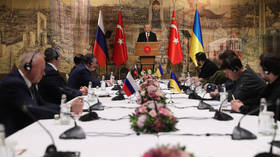 Russia is ready to seek a diplomatic solution to the conflict in Ukraine, but so far there is no basis for such talks to start, the Kremlin press secretary has said.
"The word 'negotiations' is being heard more and more often" in relation to the crisis in Ukraine, Dmitry Peskov said in an interview with Russia's Channel One on Wednesday.
Russia's President Vladimir Putin "consistently… explains the position of the Russian side, which has never given up on the idea of such negotiations, but which asserts that at the moment there are no grounds for their resumption," he explained.
According to the Kremlin spokesman, in view of the circumstances, Russia has no choice but to keep pursuing its goals in Ukraine through military means.
Moscow and Kiev have not sat down at the negotiating table since talks in Istanbul in late March 2022, a month after the outbreak of the conflict. Russia, which initially expressed optimism on the peace process, later accused Ukraine of backtracking on all progress achieved in Türkiye, saying it had lost trust in Kiev's negotiators.
Ukrainian President Vladmir Zelensky used his trip to the UN General Assembly this week to rally international support for his so-called "peace formula." He told world leaders in New York that his plan might provide "a real chance to end the aggression on the terms of the nation which was attacked."
Among other things, Zelesky's "peace formula" calls on Russia to withdraw to its pre-2014 borders, pay reparations, and submit to war crimes tribunals. Moscow rejected this plan when it was first put forward last year, describing it as "unrealistic" and a sign of Kiev's unwillingness to seek a diplomatic solution.
US President Joe Biden stated in his speech at the UN on Tuesday that Washington supported a negotiated settlement, but stressed that Russia's "price for peace," which, according to him, was "Ukraine's capitulation, Ukraine's territory and Ukraine's children," was unacceptable.
During a UN Security Council meeting on Wednesday, at which Zelensky was present, Russia's Foreign Minister Sergey Lavrov also said Moscow was "not giving up" on the idea of peace talks.
If the US is also interested in dialogue it could start by giving a "command" to Kiev to cancel a decree, signed last autumn, which banned Zelensky from holding any negotiations with Putin, the Russian diplomat suggested.
You can share this story on social media: