Zelensky asks Trump to reveal peace plan
The former US president has claimed he could resolve the conflict in 24 hours, if re-elected next year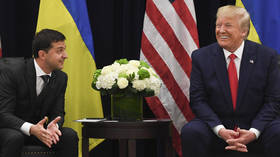 If former US President Donald Trump actually believes that his claimed plan to resolve the Ukraine crisis in 24 hours is feasible, he should present it to the world rather than let hostilities continue at the cost of Ukrainian lives, President Vladimir Zelensky has said.
Trump has repeatedly claimed that he would be able to swiftly resolve the conflict by striking a "fair deal." He has said that his approach would involve pressuring both Russia and Ukraine into making concessions. Zelensky was asked about the idea by CNN's Wolf Blitzer during an interview on Tuesday.
"If he has this plan, why be afraid and wait?" he asked in Ukrainian, before switching to English. "If he has some smart idea, he could share it with us."
"He can publicly share his idea now, not waste time, not to lose people, and say: 'My formula is to stop the war and stop all this tragedy and stop Russian aggression'," the Ukrainian president continued.
Zelensky made clear that he would reject any Trump plan involving territorial concessions by Ukraine or one that would not end with Russian troops ousted from "our land."
"Otherwise, he is not presenting the global idea of peace. So [if] the idea is how to take the part of our territory and to give it to Putin, that is not the peace formula."
Zelensky suggested that Trump himself may not be the person who formulated his plan. He urged the US as a country to contemplate what it would "give to Putin from your territories" in exchange for Russia not using nuclear weapons.
Moscow considers the conflict in Ukraine to be part of a Western proxy war against Russia. In his public speeches, the Russian president has stated that his government would not hesitate to use all the weapons in its arsenal, in accordance with the nation's military doctrine.
Under the document, the nuclear option is reserved for contingencies where the existence of Russia is at stake. Putin has said he considers the risks posed by the Ukraine conflict are nowhere near that threshold.
Zelensky arrived in the US on Monday to participate in the UN General Assembly and meet senior US officials. He seeks to convince them to maintain the flow of military aid to his country and provide more advanced weapons from the Pentagon's stockpiles.
You can share this story on social media: