Trump outlines '24 hour' Ukraine peace plan
The former US president claims that he would be able to steer the Russian and Ukrainian leaders towards a negotiated solution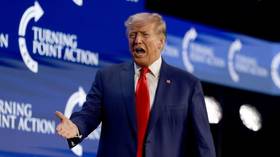 After repeatedly claiming that he could end the Russia-Ukraine conflict within 24 hours if elected US president again in 2024, former commander-in-chief Donald Trump has outlined his plan for bringing about a negotiated peace agreement.
Trump, currently the leading candidate for the Republican Party's 2024 presidential nomination, argued that he has enough influence with Presidents Vladimir Putin of Russia and Vladimir Zelensky of Ukraine to stop the bloodshed. With the right prodding from the White House, the two leaders would see no point in continuing the conflict, he said on Sunday in a Fox News interview.
"I know Zelensky very well, and I know Putin very well, even better," Trump told Fox host Maria Bartiromo. "And I had a good relationship, very good with both of them. I would tell Zelensky, no more, you got to make a deal. I would tell Putin, if you don't make a deal, we're going to give him a lot. We're going to give them more than they ever got if we have to. I will have the deal done in one day – one day."
Trump argued that his successor, President Joe Biden, is being outsmarted and outmaneuvered by world leaders such as Putin, Chinese President Xi Jinping, and French President Emmanuel Macron. "These people are sharp, tough and generally vicious, they're vicious, and they're at the top of their game. We have a man who has no clue what's happening. It's the most dangerous time in the history of our country."
The former president reiterated his claim that the Russia-Ukraine conflict wouldn't have happened had he remained in office.
Meaningful negotiations between Moscow and Kiev broke down in the spring of 2022, with both sides blaming each other. No progress has been made since, apart from semi-regular prisoner swaps.
Kiev has repeatedly insisted that there is no point in negotiating with Moscow as long as it refuses to surrender Crimea and four other regions that voted to join Russia in 2014 and 2022, respectively. Moscow has said that such terms are absolutely unacceptable.
You can share this story on social media: